A Sydney lawyer has accused the NSW LNP government of misleading the NSW parliament about its knowledge of a legal opinion from a renowned trust lawyer and ex-Federal court judge which states that a private company's use of a large public reserve is "unlawful ... and should be brought to an end."  The dispute is one of a number of recent controversial Crown Land deals challenged by NSW community groups.
The reserve in question is Talus Reserve on Sydney's North Shore. Occupied by an 8 tennis court complex, the reserve is headquarters to the Love'n Deuce tennis company that operates a number of sporting complexes in the area and claims on its website to be Australia's "largest tennis business".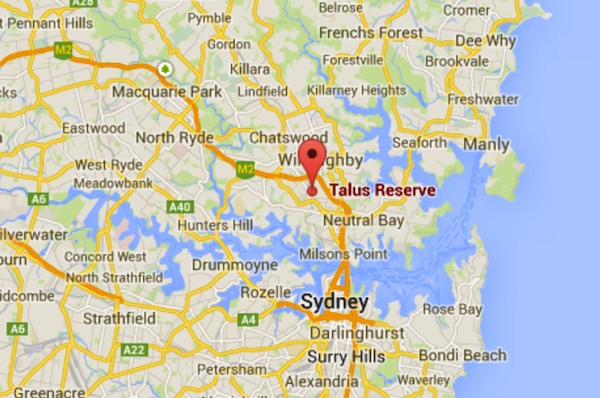 (See Talus Reserve on Google Maps).
The accusations have been made by lawyer John Owens who owns a property close to the reserve. Owens discovered the irregularity when he received a Development Application from Humpty Dumpty children's charity to build on the land. Humpty Dumpty has paid Love'n Deuce around $400,000 rent for some 10 - 20 sqm office space at the Reserve between 1998/99 - 2012/13.
Owens and a growing number of residents are alarmed that Deputy Premier Stoner and MP Paul Toole (now Minister for Local Government) have thrown their support behind a Willoughby Council proposal to try and protect Love'n Deuce with a sublease backdated to commence on 1 September 2008.  Under the sublease prepared by Council, Love'n Deuce is to pay Northern Suburbs Tennis Association around $100,000 per year, giving the Association an immediate annual profit because it only has to pay Council around $20,000 per year.  Even against steadily falling membership, NSTA's net assets have now grown to over $6.2M, with retained profits exceeding $1M.
The legal opinion from retired Federal Court judge Ray Finkelstein QC states "The unlawfulness cannot be remedied by the grant of a sublease or licence".
This week, the Minister who represents the Minister for Local Government Paul Toole in the NSW Legislative Council responded to a question from Labor Shadow Minister Sophie Cotsis asking whether the Government was aware of Finkelstein's advice and whether it agreed with the advice. The government responded on Wednesday, June 17 that the "Office of Local Government has no knowledge of the advice circulated to Willoughby councillors in June 2013 from Raymond Finkelstein QC".
Finkelstein QC's advice seems clear enough.
Raymond Finkelstein QC's advice (pdf) states:
The clearly stated principle is that where profit is derived from the use of land reserved for a specified public purpose that use will only be lawful so long as the profits are devoted to the public purpose: Minister Administering the Crown Lands Act v New South Wales Aboriginal Land Council [2012] NSWCA 358 [30].

That is certainly not the case here. Love N' Deuce earns significant profits from its use of the Talus Reserve. None of that profit is devoted to a public purpose.

For this reason Love N' Deuce's use of the Talus Reserve is unlawful, in the sense that it is not permitted by reason of the reservation. The unlawfulness cannot be remedied by the grant of a sublease or license. The unlawful use should be brought to an end either by the NSTC withdrawing whatever occupancy rights it has conferred on Love'n Deuce or by Talus Street (R73306) Reserve Trust enforcing that part of the lease which requires the demised land to be used for public recreation.
Despite the parliamentary answer given on behalf of the Minister, it seems the NSW government already has knowledge of Finkelstein QC's advice.
On 4 July 2013, Owens sent a copy of Finkelstein's advice to senior cabinet Ministers. They included Deputy Premier Andrew Stoner and his then Parliamentary Secretary Paul Toole. Mr Toole has been Minister for Local Government since 23 April 2014.
Owens wrote to members of NSW Cabinet (including Deputy Premier Stoner and former Attorney General Greg Smith) about Finkelstein's advice on numerous other occasions. He has urged the Government to apply the High Court decision in Randwick Council v Rutledge - as confirmed by Finkelstein QC - that all Crown reserves held on trust for public recreation (like Talus) must remain open to the public generally as of right and not be a source of private profit. Rutledge has been applied without question since 1959: it's the High Court's way of preventing privatisation by stealth. Willoughby Council itself used Rutledge to stop a wedding reception business in a building in the vast Garigal Park in Warringah. Meanwhile, the Council and the NSW Government have failed to apply it to the far greater commercial operation that has taken over the entire Talus Reserve.
Finkelstein advised Willoughby's Deputy Mayor (Stuart Coppock) that Love'n Deuce's control of the Talus Reserve was "unlawful", that this "unlawfulness cannot be remedied by the grant of a sublease or licence".
Finkelstein is a retired Federal Court judge and a renowned trusts expert. Deputy Mayor Coppock (himself a very highly qualified and experienced tax lawyer) has spent his own money on getting the advice after Willoughby Council refused for two years to his (and Councillor Hooper's) requests to get specialist trust advice on all the technical trust issues Owens raised in connection with the Talus.
Coppock has given Finkelstein's advice to all councillors, arguing that they couldn't in good faith rely on a conflicting advice from a local government lawyer obtained by Council officers. You can read Coppock's warnings to his co-councillors (PDF).
On the 9th December 2013 Willoughby Councillors passed a motion requesting a report from Willoughby City Council's Management addressing 10 questions, including:
Is Council currently receiving $24,000.00 rent for the Talus Street Reserve tennis complex? (an area of 15,300 square metres) … Is the Humpty Dumpty Foundation ("Humpty Dumpty"), which has raised at least $1.2M for badly needed equipment in the emergency department of the RNSH and is currently occupying an office of approx 20 square metres paying approximately $40,000 in rent to Love'n Deuce? ( i.e. $16,000.00 more than Willoughby City Council is receiving for the entire Talus Street tennis complex! ).
Owens cannot understand why Council, having passed this resolution in December 2013, is now proposing to allow the same organisation that is the subject of the resolution (Northern Suburbs Tennis Association) to sublease the land to Love 'n Deuce.  He says there are some very serious issues that need to be investigated by an independent body before any further dealings are considered. There is also the income that has been lost to the public.
So despite the NSW Premier and several other NSW Ministers, including the current Minister for Local government Paul Toole, the Attorney General's Department and the entire Willoughby Council having been specifically informed of Finkelstein QC's advice, the NSW Department of Local Government has "no knowledge of it". Does this mean that despite an authoritative legal advice that a Sydney Council was acting unlawfully, no responsible person  thought to pass on this information to the NSW Office of Local government. Minister Toole's answer is hard to believe and suggests either incompetence or dishonesty. This brings us to some further parliamentary questions which will throw more light on Toole's  answer to Shadow Minister's Cotsis's question.
Questions from Greens MLC David Shoebridge
On Thursday, Greens MP Shoebridge followed up with more questions to National Party MP Duncan Guy who represents the Minister for Local Government in the NSW Upper House. He asked:
Is the Minister for Local Government aware of advice circulated to Willoughby councillors and others in June 2013 from Raymond Finkelstein QC concerning the use of Talus Reserve

If so, what actions has the Minister taken pursuant to this advice?What is the position of the Minister and the Department of Local Government regarding the legalities of the current use of Talus Reserve?
Owens says that since he discovered Rutledge (principle requiring land held on trust for public recreation to remain open to the public and not be a source of private profit) in 2011 he has been trying to get the Council and the government to act on that law.
The facts are clear and the law would appear to be clear. So why has Owens been given the run around for three years?
He claims he was assured three times by senior NSW Government officials that the law (Rutledge) would be applied. At one stage, he says Crown Lands even intimated to him that Willoughby Council would be sacked as manager of the Talus Trust.
Owens asks, "Why would any Council or Government wish to deny the application of the very law that protects the public's rights in its Crown land? It is even more disturbing that they would waste our money on lawyers trying to defend what is legally and morally indefensible". He says he has no problem with the businesses that control Talus trying to get Rutledge overturned in the High Court: but Owens says they should be paying for that, not Willoughby Council and the NSW Government.
Owens describes Talus as "the tip of the iceberg" and says he is contacted by people every day with new stories about how other public land has  been hijacked by private businesses. He says three main things emerge from the sorry saga:
the need for legislation in Australia to give normal citizens the right to sue to protect a public trust, if the Government has refused to do so;

the need for legislation in Australia to expose public officials to greater risk of prosecution or private suit for misconduct in public office; and

the need for citizens to carefully scrutinise the Deputy Premier's recent proposals to amend the Crown lands legislation http://www.crownland.nsw.gov.au/ to open it up to large scale privatisation including coal seam gas exploration.
This blog was unable to contact Love'n Deuce on Friday afternoon. Willoughby Council has said that its media officer will assist in responding to questions on Monday morning. Questions will also be sent to the NSW government. An update will be published when responses are received.
Owens is part of a broad community campaign against the Coalition government proposals to allow more private involvement and management of public land. You can follow the campaign's facebook page here.
wendybacon.com is also covering a NSW Trade and Investment Department Inquiry into whether a transfer of a Crown Land lease in Trumper Park in Paddington to private property developer CSKS Holdings is valid, and whether there has been any corruption or illegality involved in the land dealings.