This story includes Part One of my Paddington Bowling Club series. It was first published in New Matilda, a non profit independent media outlet of the sort that is so badly needed in Australia. Tomorrow, I will publish Part two in this series about threats to publicly owned land in NSW.
Part one appears below but firstly, an update on recent events. Part Two and Three will follow.
Greenwich and Shoebridge ask Minister Stoner some questions
This week, Independent MP for Sydney Alex Greenwich and Greens MLC David Shoebridge asked questions in NSW Parliament about the NSW government's role in the transfer and development of publicly owned land leased to CSKS Holdings. You can read more about these questions at the end of the post.
On Monday March 10, Greens Woollahra Councillor Matthew Robertson will put a motion calling on the Council to prepare a report on the circumstances surrounding the lease transfer to CSKS Holdings in 2011, the rationale for the transfer and whether or not the NSW government consulted with Woollahra Council.
Recently with Council permission, I have gone through its PCB file going back to the late 1990s. Although, as I report in Part One, Councillor Andrew Petrie and some Council officers successfully reversed the NSW government's decision to sell the entire site and a section of Quarry Street to Woollahra Gardens ( now CSKS) in 2006, I could find no evidence that Council was informed. let alone consulted, between 2009 and 2011 when the lease transfer took place.  This period covered approvals by both Labor Minister Tony Kelly, who the NSW Independent Commission against Corruption found had acted corruptly in relation to the sale of land on Sydney's Pittwater, and Liberal Minister Andrew Stoner. ( Kelly was not charged but is now being investigated in another ICAC inquiry involving Liberal Minister Chris Hartcher).
Stoner has declined to answer questions about the transfer.
I will be following the story on this blog and on twitter as it develops. As I investigate this issue, I am learning about other local communities concerned about the handling of Crown land including Friends of the Randwick Literary Institute.
Part One - this is the first article that was originally published on New Matilda. It was removed after an unwarranted defamation threat
Like most tussles over development this story is a long and complex one. But don't be turned off. I have tried to summarise the issues in this first piece. Later on, I will publish some pieces about how I researched the story and issues relevant to publishing local journalism of this kind. These issues are relevant to many communities and often do not get sufficient attention in the mainstream media, mainly because  journalism resources in the traditional media have shrunk.
At one level, this is a community story about a development application for a childcare centre on Crown land in the inner-Sydney suburb of Paddington. On another, it's a story about how state authorities and corporate regulators failed residents and local councillors who struggled to hold politicians, developers and public servants accountable for dealings with publicly owned open space.
It's a tangled web of closed-door negotiations and business deals that disadvantaged a community club, leaving older members feeling overrun, some residents intimidated and the local council sidelined.
Over the course of more than a decade, locals lost control of a bowling club and the valuable public land on which it sits. Having effectively gained control of the site, the developers that once tried to purchase the land outright managed to persuade the NSW government to make a valuable addition to the land and transfer the lease to a company they control.
The club is Paddington Bowling Club (PBC) , which sits on publicly owned land leased from the NSW government. In 2011, the NSW Minister for Lands and Deputy Premier Andrew Stoner approved the transfer of the lease from the club to developer CSKS Holdings, which now wants to build a large childcare centre on some of the land currently occupied by tennis courts.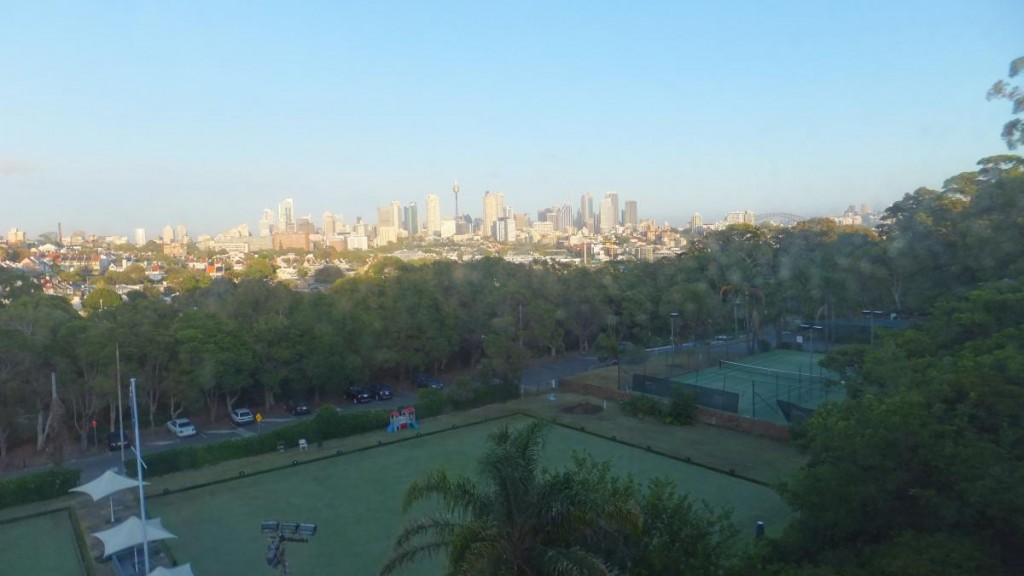 View overlooking the club and the city
Recently, local action group Friends of Quarry Street called on Stoner to suspend the Crown lease and hold a judicial inquiry into the handling of the lease and the club. This would put the developer's application to Woollahra Council on hold.
Director of CSKS Holdings Christian Sanchez says the issue is only about childcare and anything else is a "crazy story". But Friends of Quarry Street co-convenor Lesley Scott says the principle is one of "fair play".
"Just because you are a developer … doesn't mean you should be allowed to ride roughshod over the democratic process. This land should never have been allowed to fall into the hands of a developer ... While we acknowledge that there is a great need for childcare, open space in the inner city is finite," she says.
The group is also unhappy that a centre for more than 100 children is proposed next to licensed premises on a small dead-end street with very limited parking.
Ex-Mayor and current Woollahra Councillor Andrew Petrie described the issue as one in which private interests have been allowed to benefit from "underhand dealings with the government to the exclusion of the public".
The story includes two players who were involved in a Crown land scandal over land at Currawong on Sydney's Pittwater in the dying days of the Labor government in March 2011. In December 2011, Tony Kelly and Warwick Watkins, Minister for Lands and Planning under Labor and ex-Chief Executive of NSW Lands and Property respectively, were found by the NSW Independent Commission against Corruption (ICAC) to have acted corruptly in relation to the Currawong Land. Watkins later pleaded guilty to attempting to mislead the ICAC but was acquitted of two other charges. Kelly was not charged. He and other Labor and Liberal Party MPs are now under investigation in relation to another deal.
Both Kelly and Watkins were also involved in decisions in relation to this Paddington Crown land deal.
It also involves current Deputy Premier Stoner who provided other key approvals, and has rebuffed Friends of Quarry Street's calls for an investigation.
He has also ignored appeals from local MP Alex Greenwich who told New Matilda: "... the NSW government must protect this community asset." Greenwich says he has heard "very serious allegations" going back to 2000 that, "must be properly and independently investigated. In the light of recent ICAC investigations about misuse of government land and leases, the government must ensure that this lease is above board. I've repeatedly asked the responsible minister to do this".
Firstly a summary of events.
For over half a century, PBC has leased open space Crown land that was permanently set aside for recreational and community purposes. The PBC site which now includes a clubhouse, two bowling greens and tennis courts adjoins publicly owned land Trumper Park.
Back in 2000, PBC got into financial difficulties and external administrator Andrew Wily was appointed to manage the club. He decided to call in Michael Sanchez, with whom he had been associated in business for more than 10 years.
A real estate agent, hotel owner and developer, Sanchez is well known in the eastern suburbs, partly because of his involvement in several controversial developments and court cases. Sanchez, who told New Matilda he no longer has anything to do with the PBC, became bankrupt last year. His son Christian is now sole director and shareholder of CSKS.
The Sanchez family are well known for their development company Benchmark Australia. Although Benchmark is still registered with the Australian and Securities Investment Commission (ASIC), it currently has no directors, a breach of the Companies Act which ASIC says will be picked up in a compliance audit this year. Michael Sanchez's wife Lynette is now the sole owner. Christian Sanchez told New Matilda that he has never been a director of Benchmark Australia but an ASIC company search shows he was once director and secretary. Benchmark was described as the client in architects' plans for the childcare development application, which New Matilda inspected at Woollahra Council.
After meetings with Wily, Michael Sanchez became heavily involved in the club. As he later told an inquiry, his objective was to buy the Crown land then leased by PBC for development. He and Wily agreed that his company Woollahra Gardens (now CSKS Holdings) would pay $50,000 to the club in return for an option to buy the land if PBC could persuade the NSW government to sell it to them. (There were other aspects to this deal which benefitted the Sanchez family as readers will learn in the next story in this series).
Sanchez then introduced another key player — planner Brian Kirk, who Sanchez and Wily had both known for years. Kirk, who had previously worked for the NSW Lands Department, became Sanchez's key negotiator with the Minister for Lands and the Crown Lands department. Kirk also became president of the club in 2003 and is still president today. His small planning consultancy company has also provided a planning and environment expert report supporting the childcare application. Kirk told New Matilda that he saw no conflict between his various roles.
Benchmark, which is not usually a political donor, paid $4000 in two donations to the NSW and Queensland Labor parties between 2002 and 2005. Property developer donations are now banned in NSW.
After two years of negotiations with Kirk, the Crown agreed in 2006 to sell land to the PBC for what was reported by the Sydney Morning Herald to be a low Crown assessed price of $2.2 million. As soon as PBC bought the land, it would onsell it to the Sanchez company.
All of this had happened without any consultation with Woollahra Council, which controls adjoining Trumper Park. When a member of the Council's open space staff was told about the sale, he was shocked. Not only was the Crown preparing to sell the club land but also the public access way that provided essential access for Woollahra Council managed facilities in Trumper Park. This would have greatly enhanced the development value of the PBC property and jeopardised the Council controlled activities. Staff prepared a detailed report opposing the sale.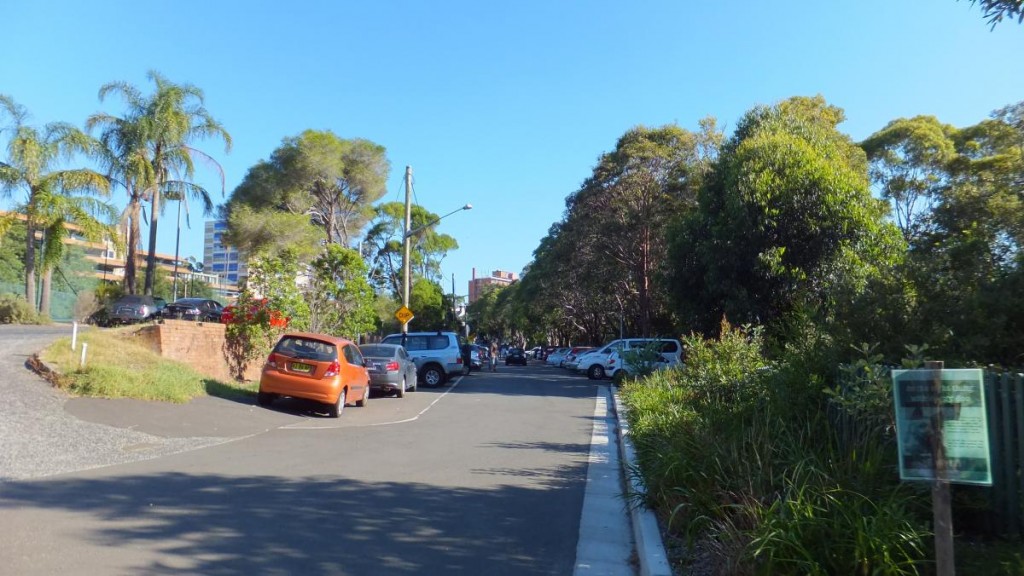 View of the narrow entry and parking outside the bowling club. Residents fear the new development will overwhelm it.
Council called on the NSW government to halt the deal. Council minutes show Council staff reviewed NSW Independent Commission against Corruption guidelines on direct "no tender" negotiations between state and private parties and found direct private negotiations were not appropriate in this case.
Woollahra Council had effectively blown the whistle on the deal. The Minister Tony Kelly withdrew approval for the sale and the NSW Director of NSW Liquor and Gaming, Albert Gardner, set up an inquiry to investigate allegations of "corrupt and improper dealings" in the affairs of PBC. The terms of reference included an inquiry into payments to Sanchez's extended family members by the club, club dealings with poker machines and the deal with the NSW Crown Lands department. The inquiry was limited to making findings of fact. Any decisions about whether corruption or legal breaches had occurred were to be left to the Liquor and Gaming Director. New Matilda has not being able to find out what, if any, decisions were made.
Despite several SMH reports and 38 days of public hearings, the inquiry report, which was completed in March 2008, flew under the public radar.
New Matilda's next story will include the first media coverage of the report. Minister Stoner has declined to answer New Matilda's questions about what actions were taken after the inquiry.
Michael Sanchez describes the 2007 inquiry as an expensive and "utterly fruitless exercise" that showed "the club as being run immaculately" and provided a template for how clubs should be run in NSW. He dismissed any further questioning of the club's administration, including its failure to file annual reports, as simply "an attempt to stir up up mud".
After the inquiry, the issue disappeared again from public view. Residents only became aware CSKS had gained control of the land when the development notice was posted on the club premises last year.
In fact, behind the scenes negotiations between the company negotiators, the Minister's office and the department never stopped.
Woollahra Council also pursued the matter. Councillor Andrew Petrie, who attended meetings with ministers (including ex-Premier Kristina Keneally when she was Planning Minister) and the then head of the Crown Land department, Warwick Watkins, remembers the period this way:
"We were always defending. We had the land around it, we were the ones that were going to be impacted. It always really surprised me that however many ministers we visited ...we were always saying but minister, but minister, but minister. [CSKS] always seem to be there before we got there. That's why we had to fight it so hard… it seemed at one stage that they had been given carte blanche to deal with the site as they wanted."
Petrie said then local MP, now Sydney City Council Mayor, Clover Moore, strongly supported the Council.
Petrie was surprised by a meeting in which Warwick Watkins was "aggressive towards us ... It particularly stuck in my mind. He had made up his mind and that is the way it was going to be." New Matilda has attempted to reach Watkins to interview him without success.
Woollahra Council did succeed in stopping the "carte blanche" sale of the land. But in 2009, not long before the government changed hands, a series of dealings with the land received ministerial approvals.
In 2009, Woollahra Council was told it could take control of the access way but crucially a strip of this small road was excised and granted to PBC considerably enhancing development possibilities for the site. The perpetual lease was changed to a 50 year lease.
Three days after the 2011 state election that brought the O'Farrell Liberal party to power on 27 March, changes were made to the title that provided for ministerial approval to be given for transfers, subleases and mortgages of the PBC land.
On 30 December 2012, with the approval of the Liberal Minister for Trade and Investment Andrew Stoner, the Crown transferred the lease from PBC to CSKS for one dollar's consideration. The PBC and tennis courts operator now pay about $100,000 rent a year to CSKS, which pays approximately $52,000 to the government.
The secretary manager of the club, Robert Ashton, told New Matilda that the club had "absolutely no say" over the transfer decision and that all decisions were made by the administrator Wily. The documents show that both Kirk and Ashton signed documents on behalf of the club.
On the same day Minister Stoner approved the transfer, he also approved a mortgage on the land allowing the company to enter into agreement with the Commonwealth Bank for more than $1 million finance. Last year, the Minister also provided necessary approval for the land to be developed. These events happened at a time when publicly available basic law and corporate checks would have revealed that PBC was failing to file reports required by the Corporations Act and both Michael and Christian Sanchez were in financial difficulty with other developments.
In two further reports, New Matilda will probe these events and raise questions about whether there has been a failure of public and corporate governance. Last week, New Matilda sent Stoner a list of questions about the handling of the land and responses to the 2008 Inquiry into the club. A spokesperson for Minister Stoner, John McClymont said that a response to questions about the land would require a "detailed review of the file going back" which is not going to happen. Another spokesperson for Minister Stoner, Mark Nolan told New Matilda that after the PBC 2008 report, the Labor government developed but did not pass reforms to the Registered Clubs Act to protect clubs from entering into private contracts which result in the takeover of club assets or property. These amendments were passed by the O'Farrell government late in 2011, well before the PBC handed over the lease to CSKS Holdings.
Follow the story and judge for yourself whether you agree with Deputy Premier Stoner's and Crown Lawyers' response to Friends of Quarry Street complaints that described CSKS Holdings as a "private equity financier who rescued the Club from insolvency". Or is it, as Woollahra Councillor and ex-Mayor Andrew Petrie suggests, that private interests are benefitting from "underhand dealing with the government to the exclusion of the public"?
If you have any further information contact Wendy Bacon directly on wendybacon1@gmail.com or via twitter or facebook or through her twitter at Wendy_Bacon You can also comment on this blog.
An update
On March 6, MLC Greens David Shoebridge , an ex- Woollahra Councillor, asked the Minister for Trade and Investment Andrew Stoner:
As per the requirements of the Crown Land Act, could the Minister advise the dates and newspaper/s that advertised :The proposed lease of Crown Land Torrens Title 3/1156846? The proposed reassignment of the lease to CSKS Holdings P/L?
Were Crown Lands officers aware that CSKS Holdings P/L was the same company as Woollahra Gardens P/L which was the subject of the 2007 Inquiry in Relation To Paddington Bowling Club Limited conducted by Commissioner Brian Guest pursuant to section 41X of the Registered Clubs Act 1976?
On what basis did the Department form the view that was communicated to the Minister and residents in a letter written on 28/8/13 on behalf of residents that CSKS Holdings P/L could be described as a "private equity financier"? At the time the lease was transferred to CSKS Holdings P/L was due diligence undertaken to confirm they were financially stable? If so what inquiries were undertaken?
Alex Greenwich , who has been persistently trying to get responses from the government to residents' concerns, also asked the Minister questions including about the dealings between the government, the Paddington Bowling Club and the Sanchez company, and about what actions were taken after the Inquiry report?