Since i posted this story today, NSW Premier Barry O'Farrell has resigned after ICAC received a note handwritten by him thanking Nic Di Girolamo for a $3000 bottle of wine that he denied receiving yesterday. questions about the casino deal are more relevant than ever. It's time for politicians to start answering questions.
For a party that was swept to power on a platform of anti corruption and transparency, the NSW Liberal Party is looking very  grubby today. If the people of NSW decide it's business as usual, one could hardly blame them.
O'Farrell and Packer's casino
This post brings readers up to date with an earlier story about an interesting lunch at Rockpool's between then NSW Party Treasurer Arthur Sinodinos and James Packer about two months before Packer launched his carefully prepared successful campaign for his controversial Barangaroo Crown casino in February 2012. NSW Premier Barry O'Farrell and his then chief of staff Chris Eccles were reported to have bumped into the two men at the restaurant. The question is: what did they talk about? Did this relate to the casino or any other NSW business deal? Were donations or other favours mentioned?
When Senator Arthus Sinodinos stood aside as Federal Assistant Treasurer after he became embroiled in the current NSW Independent Commission against Corruption (ICAC) investigation into Australian Water Holdings ( AWH), a memory of the lunch niggled at me. It that had been briefly mentioned by the Daily Telegraph back in 2012.  This and other opportunities for conversations about the deal became even more relevant after information about political donations from Crown Entertainment and Ros Packer to the NSW Liberal Party later emerged. ( see my earlier story).
I was concerned by how Premier O'Farrell avoided any detailed scrutiny of the government's immediate support for the project and his own dealings with Packer. He sidestepped questions by saying in February 2012 that whenever he met Packer, they discussed the casino. I wrote about this in New Matilda in 2012 when O'Farrell refused to answer our questions. The casino that many opposed was made to seem like a fait accompli from the time it was announced.
Greens MLC John Kaye has since taken up this issue in the Legislative Council.  I will return to his questions soon but firstly, here is some current context.
O'Farrell and Liberal party fundraiser Nic Girolamo
Yesterday, O'Farrell gave evidence at the NSW Independent Commission against Corruption in the final session of its investigation into infrastructure company Australian Water Holdings (AWH), its attempts to secure NSW government contracts and links to notorious corrupt ex Labor government Minister Eddie Obeid. O'Farrell's appearance at the Inquiry was not originally planned but evidence that emerged last week left ICAC with no choice.
Evidence was given that then chief executive of Obeid-linked infrastructure company Australian Water Holdings, Nick Di Girolamo, sent Mr O'Farrell the $2978 bottle of Penfolds Grange in mid April 2011. The wine gift and other entertainment expenses associated with the Premier were recorded in company records. Around the time the alleged gift arrived at his home, O'Farrell made a short phone call to Di Girolamo, who told the Commission that this was his thank you call. O'Farrell denies ever receiving the gift and did not record it on his pecuniary interest register as is required. He denies making the thank you call.
Ex Finance minister Greg Pearce gave evidence last week that in May 2011 he had been called up like a naughty "schoolboy" to O'Farrell's office where Di Girolamo was meeting with O'Farrell. Pearce was surprised at how close the meeting between the Premier and Di Girolamo appeared to be.  A text message from O'Farrell to Di Girolamo in August 2011 has been tendered saying that the Premier is "appalled" at the treatment of AWH and "we are on to it". The two men texted each other often. .
At best, the picture that emerges of NSW a familiar one of favours, meetings, cosy talks in pursuit of government decisions that favour business mates.
O'Farrell made a habit of fending off questions
O'Farrell's approach up until now has been to fend off questions and stand indignantly on the high moral ground. As Andrew Clennel wrote in the Daily Telegraph today when O'Farrell's meeting with Di Girolamo was revealed , O'Farrell announced:
"There is no problem having meetings with people, the problem is the actions that are taken after those meetings," O'Farrell railed. "This state has scandal starvation. There is no story here and no splash here because the work has not been done." Whatever his hopes that the scandal would go away, there is certainly a story now.
O'Farrell's retort to uncomfortable questions is a classic tactic. Political opponents and journalists who think there is more to probe would not take them too seriously.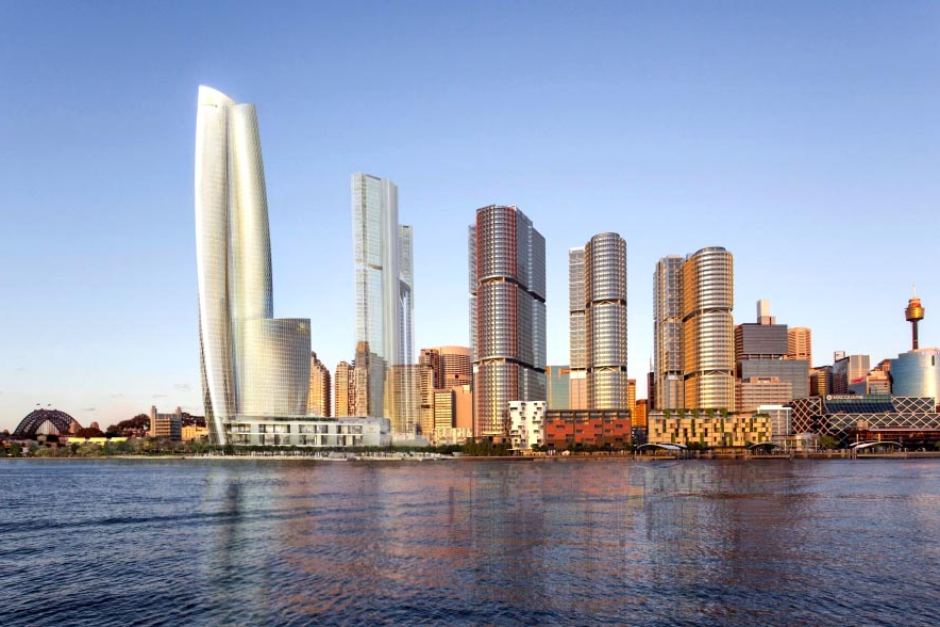 An artist's impression of Crown Sydney casino and hotel (far left), designed by the architecture firm Wilkinson Eyre. Via abc.net.au
This brings me back to the lunch I reported in this blog several weeks ago.
I drew attention to a Senator Arthur Sinodinos lunch with Jamie Packer at Rockpool restaurant in December 2011, not long before Packer was going to launch his long planned campaign for his Sydney Crown casino.
Greens  MLC John Kaye who has consistently campaigned against the casino deal followed up the issue in the NSW Legislative Council.  The question struck a nerve and the answer opened up more questions.
JOHN KAYE: My question without notice is addressed to the Minister for Police and Emergency Services, representing the Premier.In December 2011, did the Premier and Mr Chris Eccles, while eating at the Rockpool restaurant, happen upon Mr James Packer, who was eating at the same venue with then Liberal Party Treasurer and Senator Arthur Sinodinos? If so, what matters were discussed and at any stage during the conversation were either of the following topics discussed: first, campaign donations and, secondly, Mr Packer's proposal for a gambling facility or second casino?
The question caused a mild uproar.
After order had been restored, Gallagher's  (representing O'Farrell) first approach was to attack the questioner. "What an absolutely stupid question. I am sorry, I should have said that it is a good question from a stupid member." Kaye then objected that Gallagher should answer not debate the question.
Gallagher:
I will not give that question any more attention, and I do not believe it actually deserves any. I do not know where the member who asked the question gets his information from.
Liberal MP Catherine Cusack then came to Gallagher's defence suggesting that he should ask Kaye a question. Gallagher responded:
No-one is interested in what Dr John Kaye does—or where he eats, who he eats with or who he knows. He stands in this place and makes such an allegation as though it is gospel, and we are supposed to accept it. I do not know and he does not know.
Kaye: I asked you a question.
Gallacher: And I am answering it.
Kaye: So are you saying that he did not meet with him?
Gallagher: I do not know.
Kaye: Is that what you are saying? Are you denying that he met with him?
Gallagher: I rest my case on the last interjection. It is pretty clear that the member does not want an answer, because he does not seek one. He simply wants to make an allegation and put it on the record.
Kaye: I ask a supplementary question. Will the Minister elucidate his answer by explaining whether Mr Eccles and the Premier, while eating at the Rockpool restaurant in December 2011, happened upon Mr Parker and Senator Arthur Sinodinos?
The supplementary question was ruled out of order.
About 30 minutes later, Gallagher changed his tune.
Gallagher:
Earlier in question time I was asked a question by the Hon. John Kaye regarding the Premier's dining arrangements. I refer the member to a letter in the Daily Telegraph Letters to the Editor column on 27 October 2012 entitled "Clearing the air", which stated:

The Daily Telegraph reports correctly that my Director General and I ran into James Packer at a restaurant in December last year. As your journalist was told when he raised the encounter, James Packer did not mention anything to do with his current Barangaroo proposal.

That short letter was written by Barry O'Farrell, Premier of New South Wales. I had not known of O'Farrell's reply when I made my earlier post. As I said, O'Farrell declined to answer any of our questions in 2012.
I asked Kaye how he responded to the reply. He answered: "Minister Gallacher's responses open up more questions than they answer.
"The Minister neatly avoided the issue of any discussions of campaign donations and left the public hanging on what actually was discussed.
"Given the timing of the meeting and Mr Packer's obsession with his casino proposal, it is quite extraordinary that the Baranagroo project was not discussed. It's my guess that it would have been one of the only conversations Packer had with anyone in that entire year where he didn't raise the casino issue. The level of abuse in the Minister's first response is convincing evidence that we were getting very close to the bone.His second response and its failure to even mention campaign donations suggests that more questions should be asked," Kaye said.
Back in February 2012, O'Farrell said that "just about every time I see Mr Packer he expresses interest in running a casino in Sydney and offers other suggestions on boosting tourism." So if this was an unusual occasion in which the casino was not discussed, what was discussed - donations? I wonder why Gallagher failed to respond to the part of the question about donations.
Another indirect connection with Packer has come up at this recent ICAC inquiry.  Eddie Obeid's son Eddie Obeid Jnr who worked at Australian Water Holdings also arranged a breakfast.  meeting between Senator Sinodinos and Karl Bitar. Bitar like Sinodinos was a party apparatchik who resigned as ALP national secretary in March 2011, joining a long line of Labor leaders men who went to work for the Packer Family. Sinodinos, Bitar and Obeid met in the Four Seasons Hotel on July 12, 2011. "It was a general discussion. Arthur and Karl always wanted to make acquaintance. It was a general sort of catch-up," Obeid told the Inquiry said. I wonder what matters were canvassed in the "general sort of catch-up?"
Deal making in NSW crosses political party boundaries. Business mates use entertainment, donations, jobs and lobbying to tap into both major parties. Packer has amassed an impressive display of political contacts across both parties. ( See New Matilda's 2012 report of Team Packer). This is partly why it's not at all surprising that O'Farrell rather than offering a bright clean future for NSW ended up being the fourth NSW Premier to appear before ICAC. The Inquiry continues today.
I'd still like to know about the topics of conversation at that December 2011 lunch. It would also help transparency if NSW politicians could treat parliamentary and journalists' questions with less arrogance.