Perrottet jumps to defend icare after devastating exposé
Many who watched the ABC's Four Corners exposé of NSW workers' insurer icare would have been surprised that NSW Treasurer and Finance Minister Dominic Perrottet jumped so quickly to support its then CEO John Nagle. "The icare team and the executive icare team do a superb job," the Treasurer said. (For more, read Adele Ferguson's From Baby to Problem Child)
Two days later, John Nagle resigned after being questioned by a Parliamentary Committee. He gave evidence that he had been sanctioned by the icare Board last year for "deficient" disclosure of a contract awarded to his wife without a tender. Nagle said he lost his short term bonus as part of the sanction.
By the end of the week, Perrottet's chief of staff Nigel Freitas had also resigned after it was revealed that two members of the Minister's staff were being paid for by icare. These were senior policy advisor Edward Yap, who has been on icare's payroll since August 2017, and an unnamed administrative assistant. By this time, the picture had clarified. Perrottet was defending icare while he secretly had two members of his staff on the icare payroll. Icare is meant to be independent of the political process.
Yap came from the United States to work for Perrottet in 2015. Although icare took overpaying his salary from August 2017, he was at all times a senior policy advisor working for Perrottet. The Treasurer has tried to pass this salary arrangement off as an administrative error for which there is no paperwork.
If this were true, there would still be questions to answer, including:
Who suggested and who agreed to the job arrangement and why?

What were the job descriptions of both Yap and the admin assistant?

Who at icare knew about the payment of the salaries? Who authorised the payments and for what purpose? (icare funds are derived from employers to cover insurance for workers)

How much were Yap and the administrative assistant paid?
It has been reported that such secondments from government agencies are not unusual, but on Saturday Greens Upper House MP David Shoebridge tweeted a section of the State Insurance and Care Governance Act 2015 Section 14 which he explained means that the provisions for secondments do not apply to icare. Since Perrottet is a lawyer and was the government minister responsible for the legislation, you would expect him to be on top of its provisions.
What conversations has Perrottet had about the job arrangement both before and after the program?

Where did the idea to say it was an administrative slip-up come from?

What role did Nigel Freitas play and what discussions did he have with Perrottet?
These are questions that need to be probed and answered under oath, with documents including emails and text produced as part of an Inquiry and investigation.
An ambitious man with much at stake
An ambitious man who was touted last year as a possible successor to Gladys Berejiklian, Dominic Perrottet has now suffered a major setback with calls from NSW Labor, NSW Greens and the Public Service Association for him to resign or at least step aside for investigation, as well as to appear before the Upper House Parliamentary Inquiry into icare.
When then Premier Mike Baird resigned in January 2017, Perrottet was promoted to Treasurer but he also retained responsibility for icare. It was a rapid promotion for the 35-year-old Catholic right-winger who had only entered the NSW Parliament in 2011, and had been the President of Young Liberals at Sydney University in 2003
The stakes for Perrottet are high. As 4 Corners and the SMH revealed, concerns about icare have been widespread for at least three years, including among employers and the insurance industry. Perrottet was well aware of these misgivings because he was responsible for the transition from the old Workcover workers' compensation scheme to icare which began in 2015.
Perrottet oversaw the new legislation and chose the board including its chairman, Liberal donor Michael Carapiet. Serious concerns were raised by independent reports and a senior bureaucrat in the Department of Finance but Perrottet consistently either ignored warnings or explicitly supported icare. Who advised him to do this?
What role did Yap play in advising on icare?

Who was aware that he was paid by icare itself?

What else did Yap do for Perrottet?
In January 2018, Mr Yap travelled with Perrottet, Nigel Freitas and Treasury secretary Michael Pratt to New York, Washington and San Francisco to promote NSW infrastructure. The total estimated travel costs for Mr Perrottet and his two staff was $50,421. The trip was taken while Mr Yap was on icare's payroll. An alumni profile published by Mr Yap's high school newsletter stated, "Ed advises the [NSW] treasurer on areas including education, trade and investment, energy, the environment, natural resources, state-owned corporations, and insurance." This sounds like a very wide ranging brief for someone whose salary was being paid for by the State-owned corporation icare.
My research also shows that Edward Yap did represent Perrottet on at least one occasion on an icare matter.
NSW Business Chamber (NSWBC) records show that on May 2017, Senior Policy Advisor Edward Yap represented Perrottet at a meeting about Workers Compensation regarding "the need for all employers to be able to easily understand the formula that underpins the workers' compensation premium payable each year; how the Chamber will be conducting a member survey in order to collect and collate member feedback on issues that they are experiencing with the workers' compensation system; and the need, in the interests of transparency, for the Chamber to obtain more detailed information on the performance of the scheme from icare."
The BCA meeting took place three months before Yap went onto the payroll of icare. What follow-up did he do after this meeting? The documentation would be illuminating and should be published. In any case, the Business Chamber remained unhappy. In December 2018, it called on Perrottet to initiate an urgent review of the system.
NSWBC CEO Stephen Cartwright complained to Insurance News: "We're hearing from employers across the state about poor claims management practices, causing lengthy delays in workers receiving necessary medical and rehabilitation services …. Premiums are calculated on the time it takes to return an injured employee to the workplace, so these delays are unfairly inflating insurance costs."
Cartwright said BCNSW had received reports of claims being approved without appropriate checks or investigations, lengthy delays, poor advice and low levels of support for both employers and employees. "The promised efficiencies and professionalism from the split of functions simply haven't eventuated. Some would argue they have declined and this is why we have requested a post-implementation review," he said.
By the time the Insurance News story appeared, Yap was on the icare payroll but in fact, remained as Perrottet's advisor. Perrottet hit back. In response to questions to Perrottet from Insurance News, an unnamed spokesperson for Perrottet responded that icare had made 'huge improvements' and that the old scheme was "failing injured workers, [and] was predicted to be at least $4.1 billion in deficit". By contrast, "Today the most injured workers are receiving more support, business premiums have been reduced, and the scheme is back in the black." In typical professional PR fashion, the Minister and his unnamed spokesperson simply sidestepped the complaints that had been raised.
Who is Edward Yap?
Perrottet and Yap have quite a lot in common. They both attended Catholic Schools and became right-wing Catholic warriors in their student days. Their version of Catholicism involves strong support for neoliberal economic and environmental policies as well as social conservatism.
While Perrottet attended the Opus Dei school Redfield College and Oakhill College in North West Sydney, Yap attended the Maronite Catholic Chaminade High School in New York. He then enrolled in the conservative Catholic University of Notre Dame at South Bend, a city of 100,000 in Indiana. There he studied political science. He became President of the Notre Dame Republicans and founded a Notre Dame Conservative Coalition.
Yap's first serious involvement in political campaigning was in the Presidential campaign of 2008 when he campaigned for the John McCain and Sarah Palin Republican ticket. The South Bend Tribune reported that Yap and others were angry when the university student affairs office refused to allow them to use student funds for 125 students to travel to a McCain/Palin rally in Sterling Heights, Michigan. Nevertheless, 25 students used their own funds to drive to the rally and were not disappointed.
"The rally was absolutely awesome and inspiring," said Republicans President Yap. "The 25 Notre Dame and Saint Mary's students that collectively drove more than 40 hours to see the McCain/Palin rally in Sterling Heights left ready to do anything and everything necessary to elect John McCain and Sarah Palin."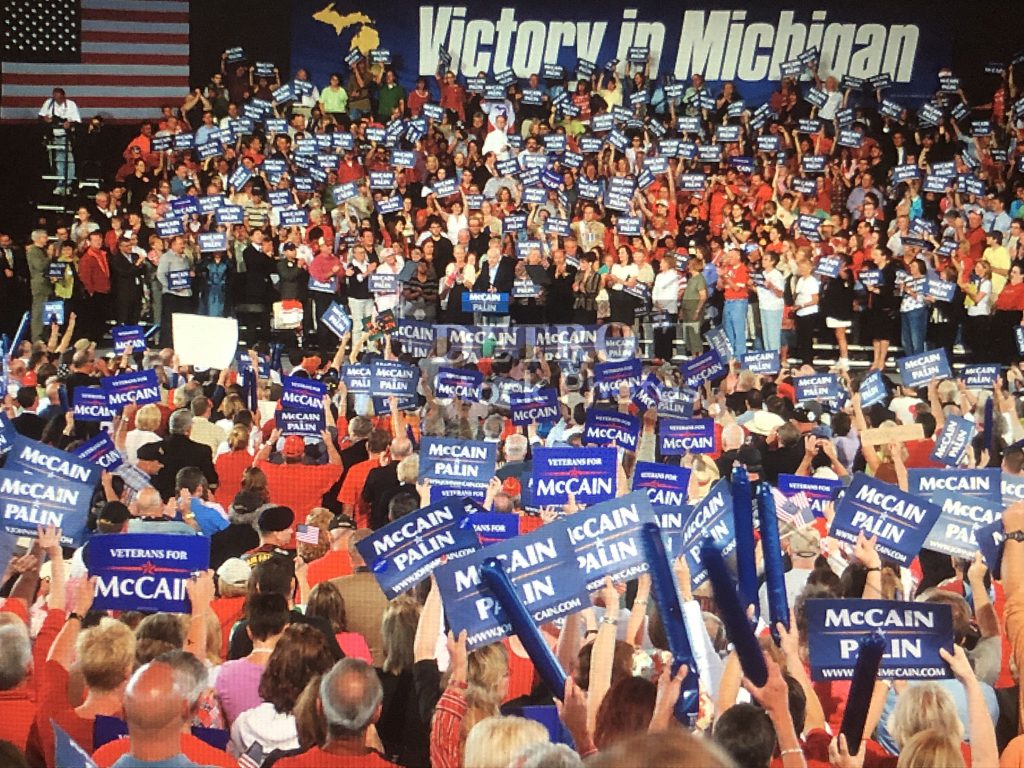 Somewhere in this crowd is Edward Yap. He left ready to do "anything and everything to elect" McCain and Palin
The Notre Dame students were given special front row seating and were able to shake hands with McCain and Palin. Yap said Palin even signed his university flag."I'll be cherishing that for the rest of my life," he said. "I felt as if they were speaking to me and every other person in the room, young and old, and telling us that the future - our future would be well protected in their hands.
Yap campaigns for Arctic Drilling
In June 2008. the South Bend Tribune reported that Yap and other student Republicans were campaigning to get first-term Democrat Representative Joe Donnelly to change his stance on domestic oil exploration.
Yap and two others dressed as a caribou and a dolphin (a "Flipper joke") presented a petition in favour of the 'American solutions', which favoured more off-shore drilling in the Arctic National Wildlife Reserve (ANWR). Supporters argued that this would lower the price of petrol. Yap was quoted as being concerned about the $50 cost to fill the tank of the 1998 Volvo that he was then driving. This was all part of Yap's work for the Republican candidate Luke Puckett.
The group was also concerned that Donnelly was not supporting an extension of the Protect America Act which was part of the US foreign intelligence framework introduced by President Bush in 2007. According to an American Civil Liberties Union fact sheet, this Act allows for "massive, untargeted collection of international communications without court order or meaningful oversight by either Congress or the courts. It contains virtually no protections for the U.S. end of the phone call or email, leaving decisions about the collection, mining and use of Americans' private communications up to this administration."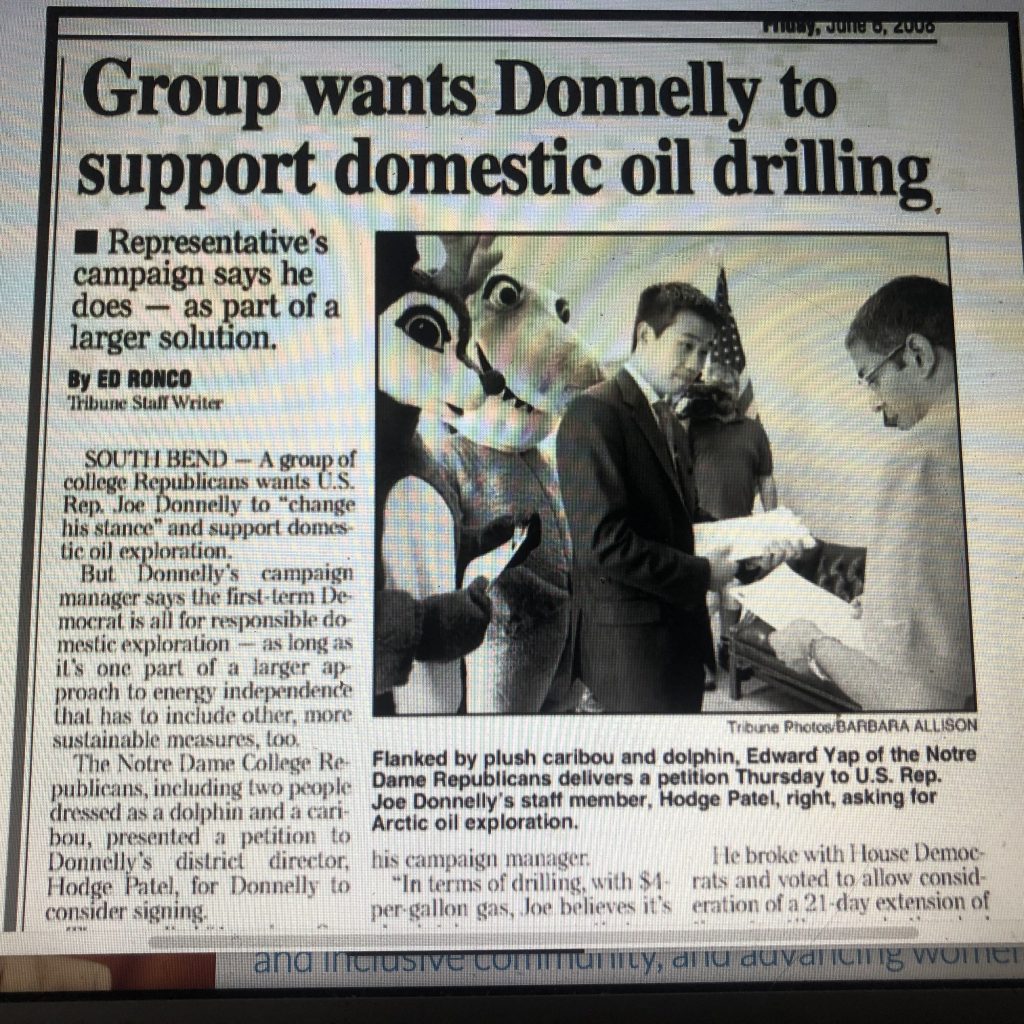 Edward Yap campaigning for drilling the Arctic Wildlife Reserve
Campaigning against pro-choice President Obama's visit to Notre Dame University
Given his enthusiasm for Palin, Yap must have been very disappointed that Barack Obama won the 2008 Presidential election. But he was even more disappointed when in May 2009, it was announced that the President himself was coming to Notre Dame to speak at a Graduation ceremony. Obama was regarded as the most pro-choice president ever to be elected. It was anathema to Yap and other conservative Catholic students who were vehemently anti-abortion that Obama should be made welcome at Notre Dame.
Although a majority of students were reported to be in favour of the visit, a coalition of about a dozen Notre Dame student groups including Notre Dame College Republicans and Notre Dame Right to Life formed "ND Response" to campaign against Obama's visit. Yap was again the spokesperson.
"This is not political," declared Yap, as spokesperson for ND Response and a former president of Notre Dame College Republicans. "I would be immensely happy if a [pro-life] democrat came to campus … Our issue is really a religious and moral issue….We want to reaffirm the Catholic church's position on this issue and really show average citizens and Catholics around the country and the world that while the preeminent
From student activist to professional Republican campaigner
Yap graduated in 2010 and was immediately hired to work on the electoral campaign of Iraq war veteran and lawyer Brian Rooney. Rooney had previously worked at the Thomas More Law Center, a public-interest, non-profit, Catholic law firm "dedicated to defending the sanctity of life, traditional family values, religious freedom, and maintaining a strong national defence". Rooney resigned from the law centre to run Congress but was defeated in the primary. Rooney was endorsed by anti-abortion Catholic Families for America and stood on a platform of smaller, less intrusive government.
Yap moved on to work for Republican Tea Party politician and physician Nan Hayworth, who was successfully elected to represent New York in Congress.
Hayworth was one of those Republican members of Congress who successfully rode a wave of public anger over the government bailout of banks in the wake of the GFC. Investment News which investigated political donations,reported that once elected, they did nothing about this issue. Hayworth was reported to have sponsored her own measures to weaken the regulation of financial derivatives.. Investment News reported that disclosure records showed that Hayworth took $27,000 in donations from big financial institutions. Yap was Hayworth's spokesperson and did not return calls from Investment News seeking comment.
Hayworth was defeated in 2012.
Yap then moved on to become the Communications Director for newly-elected Republican right-wing lawyer Keith Rothfus. A father of six and lawyer, Rothfus like Yap is a Catholic and alumnus of Notre Dame University.
In the 2012 election, Rothfus was endorsed by Freedom Works, a conservative and right-wing libertarian organisation that is linked to right-wing billionaires the Koch Brothers. It is part of a national network of free-market organisations.
Rothfus was also officially endorsed by the Club for Growth, which is another right-wing organisation that funds candidates who promise to support anti-union and smaller government policies. The sources of the funds that it uses for this are not revealed.
While Yap was working for him, Rothfus campaigned against Obamacare. He argued that government was getting too big and was "micromanaging day to day affairs" that people would be better to manage themselves through voluntary organisations like Lions Clubs.
It was Yap's job to defend Rothfus when he attracted negative publicity after he accepted a trip to the Club for Growth's winter conference on fiscal conservatism, which included $450-per-night rooms at The Breakers resort in Palm Beach, Florida. The disclosure forms note that Club for Growth had negotiated the room rate before it invited lawmakers to attend.
As a spokesperson for Rothfus, Yap told the media that all the congressman's trips were approved by the ethics committee.
Although by the time Trump was elected in 2016, Yap had left the US to join Perrottet in Sydney, an indication of where Rothfus stood politically was his voting record in relation to Trump. Projects FiveThirtyEight, which tracks the voting record of US politicians in relation to Trump, reports that Ruthfus scored 88.5% in supporting Trump policies. This earned him Trump's support in the 2018 election. Trump tweeted, "He must win. Strong on crime, borders, big tax. Military and Vets." Despite Trump's support, Rothfus was defeated.
Shadowy PR Company
Back in January 2014, Yap made another move. His new job was at CRC Public Relations. At the time of his departure from Rothfus' office, he was quoted as saying, "As the son of two immigrants, I never imagined that I would have the opportunity to work on Capitol Hill and live the American Dream. It has been a humbling experience."
CRC Relations, which is based in Virginia, tends to stay behind the scenes. Sourcewatch states that CRC "billed itself as "as the "blue-collar" communications arm for the conservative movement." It rose to eventually be called "a powerhouse" that is "behind the curtain for nearly every conservative cause" and "the go-to communications firm for conservative organizations in Washington and across the country."
In May 2015, Asian Fortune described Yap as working for CRC and focussing on "energy issues and work[ing] with leading experts, think tanks, trade associations, and Fortune 150 companies."
CRC is a communications company. It is not a policy company. But after Yap had only been 14 months in this job and despite having no qualifications in finance, Perrottet hired him as a senior policy advisor.
How did Perrottet come to hire Yap?

Who recommended Yap?

What was he hired to do?
Did his duties include organising for Perrottet in his electorate or against the decriminalisation of abortion? Yap had far more experience in both these tasks than he had in policy advice - especially in organising young Catholic voters.
In the light of the fact that Yap had no experience or apparent qualifications for the job of Senior Policy Advisor to a state treasurer, how was the decision reached that Yap could officially apply for a job as a 'strategy manager' for icare reached?
What Perrottet, Yap and all Yap's previous employers do share in common is their zeal for implementing a far-right political agenda. When Trump was elected, Perrottet hailed his win as a defeat of the left-wing establishment. In a widely read social media post, Perrottet said, "If you stand for free speech, you are not a bigot. If you question man-made climate change, you are not a sceptic. If you support stronger borders, you are not a racist. If you want a plebiscite on same-sex marriage, you are not a homophobe. If you love your country, you are not an extremist."
Perrottet is entitled to hire staff who suit his political agenda. But he was not entitled to use icare funds to do it or to present a staff member as an advisor to stakeholders who was in fact paid by icare.
Greens MP David Shoebridge said, "Every single cent that went to pay for the Treasurer's two icare staff was money that was diverted from helping injured workers. This was more than a conflict of interest, this was the Treasurer taking money from injured workers to pay for political staffers. We have heard case after case of injured workers who have been thrown off the scheme, struggling in poverty, and now we hear that hundreds of thousands of dollars are being bled from the scheme to pay for the Treasurer's staff."
Perrottet responds to crisis
Once the story broke about icare paying for his staff, someone had to take the fall. It was his Chief of Staff Nigel Freitas. Perrottet tried to move on after saying sorry, on the basis that he personally had done nothing wrong and would accept no responsibility, even though the events happened in his own office.
Perrotet and the Minister for Customer Service Victor Dominello have appointed retired Supreme Court Judge Robert McDougall to lead a "root and branch" review into icare. That is certainly needed. But how public will this review be and what will be its powers? The terms of reference do not include an examination of the relationship between icare and the Treasurer or Treasury.
Perrottet has also appointed his direct report Treasury Secretary Michael Pratt to look at his office staffing arrangements "going back a number of years". Pratt's findings are to be made public. As the SMH reported, the NSW Treasury had previously dropped a review of icare as a result of receiving complaints from icare itself. Pratt, who was a banker before he joined the NSW government, was a Deputy Chair of the icare Board in 2015.
Along with Yap and Nigel Freitas, Michael Pratt and anotther Treasury official also accompanied Perrottet on the five-person Trade delegation to the United States in January 2018. Having spent 6 days in each other's company, Pratt and Yap would know each other quite well.
It's hard to think of a less suitable choice to review the arrangements that led to Yap working in Perrottet's office on the icare payroll. It will certainly not provide the public with answers to the questions posed in this blog.
This tactic mirrors Morrison approach when he appointed Prime Minister and Cabinet Secretary Phil Gaetjens to inquiry into allegations that former Minister Bridget McKenzie was politically biased in her allocation of sports grants. As former PMC Secretary Michael Keating wrote in the Pearls and Irritations blog, "Gaetjens has produced a report whose only purpose was to get the government off a political hook."
Labor's Upper House MP Dan Mookhey and spokesperson for Finance called the Pratt review "a sham inquiry, into a sham arrangement." "The person who is now investigating the Treasurer's office himself is entitled to be asked questions," he said.
icare insures more than 310,000 NSW businesses and 193 government agencies, covering about 90% of public and private sector workers in the state. Its resources have been used to pay for a right-wing political operative from the United States to work in the Minister's office.
Gladys Berejiklian should have demanded Perrottet to stand aside and ordered a judicial inquiry. Instead, she has stood by him.
Do you know more?
I have sent the Minister's office a list of questions and will publish any answers I receive.
If so you can send me a direct message on twitter Wendy_Bacon or email me on wendybacon1@gmail.com.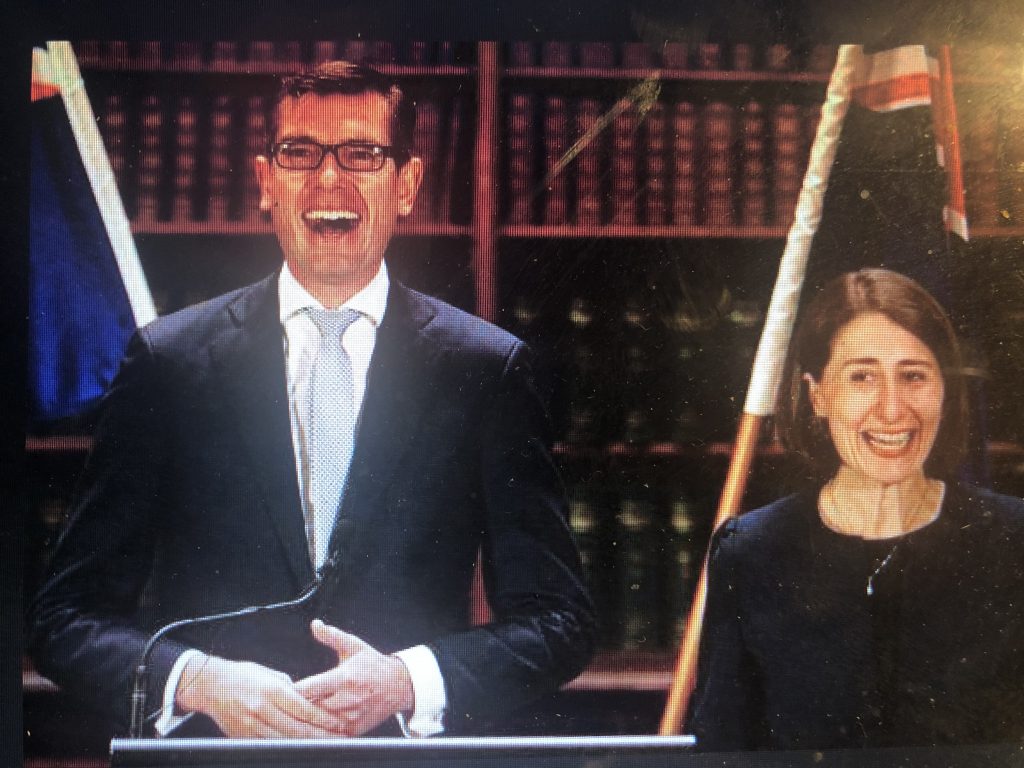 Premier Gladys Berejiklian and Treasurer Dominic Perrottet celebrate their promotion after Baird's resignation in 2017.