Note: Aboriginal and Torres Strait Islander viewers are respectfully advised that this website contains images of and references to deceased persons.
A month ago, Australia marked the 30th anniversary of a Royal Commission into Aboriginal Deaths in Custody (RCIADIC).
It has long been tragically and shamefully clear that Australian governments have failed to put into practice many of the Commission's 339 recommendations, including a crucial one that any solution to deaths in custody lies in reducing the incarceration rates of First Nations people.
Three decades after the Royal Commissions, Australia's First Nations peoples are the most incarcerated people on earth.
In the week of the 30 year anniversary, a police officer Derek Chauvin was found guilty of murdering Minnesota Black American George Floyd. President Joe Biden endorsed the guilty verdicts of two counts of murder and one of manslaughter. Floyd's family credited the verdict to the massive campaign by black activists and their supporters, hundreds of whom had waited outside the court and chanted "Say his name: George Floyd! All three counts!"when the verdict was announced.
By contrast, in Australia, no individual has ever been held accountable through a successful criminal prosecution for the deaths in custody of more than 500 First Nations citizens since 1987.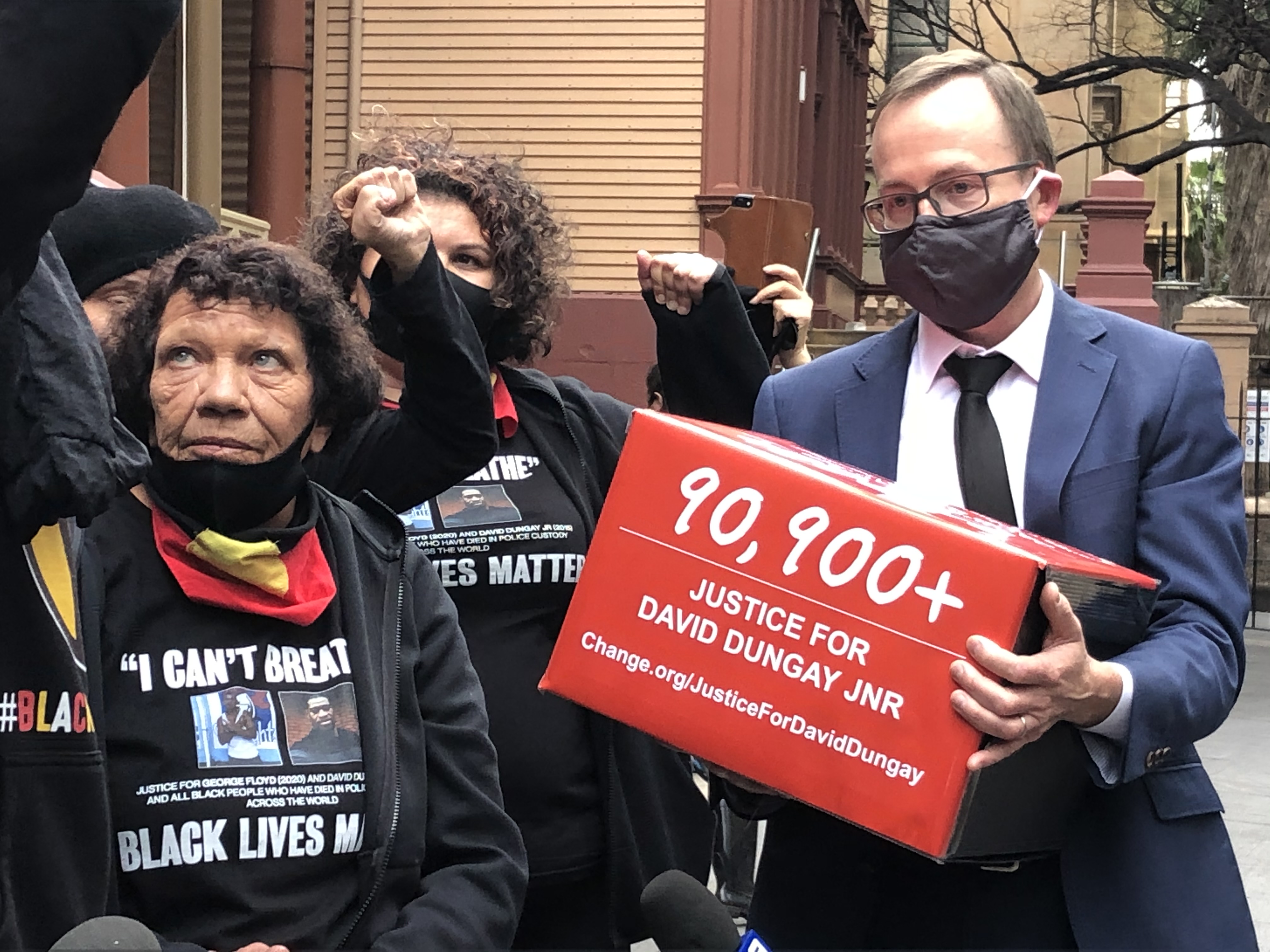 Leetona Dungay and her family campaigning for an Inquiry into her son David's death in 2020. (Photo: Wendy Bacon)
Instead of Aboriginal and Torres Strait Islander incarceration rates going down, the opposite has occurred. Tonight nearly 12,000 First Nations men and women will go to bed in prison. Several thousand of these prisoners are on remand, convicted of no offence.
In mid 2019. Aboriginal and Torres Strait Islanders made up three percent of the Australian population but 28 percent of our prison population. Further, the Indigenous imprisonment rate was 12 times the rate for non-Indigenous prisoners in 2019, and has increased by 35 percent since 2009, compared to an increase of 26 percent for non-Indigenous prisoners.
Hundreds of families have been left in grief after losing sons, daughters, parents, grandparents, aunties and uncles to death in custody since the Royal Commission reported. Five First Nations people have died in custody in the last month alone. They wait for years to find out even the basic facts about how their family member died.
The imprisonment figures are horrifying but should come as no surprise. In fact, even by 1993, there were signs that Federal and State governments did not intend to implement key recommendations of the Royal Commission.
Governments have failed. But what about the media?
The Royal Commission noted the historical role that media played in marginalising and rendering invisible the abuses of First Nations peoples. It called on the media to improve its coverage and to scrutinise governments' actions in the future.
Thirty years later, in April this year, the Journalism and Education Research Association made a similar call. It issued a statement which in part read:
"Sustained and persistent media coverage is required, into the conditions that result in the deaths – including the underlying issues, systemic racism and the inadequate prison health services; the reasons for the high Indigenous youth and adult apprehension and incarceration rates; the lack of implementation of the recommendations that emerge from coronial inquest after coronial inquest – year after year, decade after decade; and the lack of investment in justice reinvestment and Aboriginal community youth programs that actually work"
The statement was drafted by Bonita Mason who is Program Director of Journalism at the University of South Australia.
So as we rightly criticise governments and politicians for their failures, it is also important to ask - how well has journalism performed its role in holding political and bureaucratic players to account for implementing the Royal Commission recommendations over the last 30 years? Have First Nations people been given an adequate voice? What does the experience of Indigenous people tell us about solutions? Have readers and audiences been provided with stories that explain the significance of the issues and strengthen awareness? Are there different patterns of coverage across the media?
In this article, I begin to answer this question by providing an overview of reporting from the events that led to the Commission until its recent 30th anniversary.
1980s - Pushing deaths in custody onto the national agenda
One strong point needs to be made at the outset.
There would never have been a Royal Commission if it hadn't been for years of campaigning by First Nations activists, particularly the families of those who had died in custody. The campaign aimed to achieve national and eventually international visibility through the media - in other words, to break the silence around deaths in custody.
It began in 1983 with grassroots protests by families and friends around several deaths in custody, including that of Eddie Murray in Wee Waa, NSW, and 16-year-old John Pat in Roebourne, Western Australia.
On 12 June, 1981, 21 year-old Kamilaroi man Eddie Murray was found hanging in a cell, only an hour after being arrested for being 'drunk and disorderly'. This was an instance of the daily police harassment of Aboriginal people in NSW country towns. There had been no sign of Murray being depressed - he was on the verge of a successful football career - and home to catch up with his parents, Arthur and Leila Murray. A coronial inquest was unable to determine if Murray died "by his own hand or by the hand of persons or a person unknown", but reached a conclusion there was not enough evidence to charge police. Arthur and Leila campaigned until their deaths for the case to be reinvestigated.
Sixteen years old John Pat was beaten to death by five police officers in 1983.They were later charged but were acquitted of the manslaughter of Pat in 1984. The Royal Commission later acknowledged that "The death of John Pat became for Aboriginal people nationwide a symbol of injustice and oppression … a continuing sense of injustice in the Aboriginal communities throughout Australia saw the anniversary of John Pat's death marked by demonstrations calling for justice."
1983 - Committee to Defend Black Rights gains political and media attention
The Committee to Defend Black Rights (CDBR) organised a national tour of families whose members had died in custody. The CDBR called on the Federal government to hold a Royal Commission. 'Stop Aboriginal Deaths in Custody' marches were held on the anniversaries of the deaths of Murray and Pat.
Mainstream media coverage of the issue was negligible with Indigenous deaths in custody usually attracting a one or two-sentence item, if anything at all. However, as the campaign built, alternative newspapers and community radio began following the issue.
Then, Perth freelance investigative journalist Jan Mayman began to investigate the John Pat case. She later won a Golden Walkley, Australia's highest journalism award, for her reportage published in Melbourne's The Age. The ABC's Four Corners team took up the story and David Marr and others also won a Walkley award for a 1985 report.
In 1987, seven First Nations people died in prison or police custody over a six-week period. A packed meeting held in Sydney Town Hall called for a Royal Commission. Activists warned they would use the Australian bicentenary of white invasion in 1988 as a platform to expose Australia's human rights abuses to the world. They took the issue to the United Nations.
At last, Aboriginal deaths in custody had become a mainstream political story.
Lloyd Boney dies in custody
Lloyd Boney died on 6 August 1987, sometime in the ninety-five minutes after he was locked up at the Brewarrina police station. His death was the 44th recorded First Nations death in custody since 1980.
Police said that they found his body suspended at the neck by a football sock but his family and many community members rejected their account. (Watch this short video where Lloyd's mother Priscilla visits his grave and talks about how the family continues to grieve and think about him.)
The police investigation into Boney's death did not begin for 24 hours until after his death. As the RCIADIC later found this allowed those involved to "coordinate' the accounts" and provided opportunities for "collusion and reconstruction". Only one non-police witness was interviewed.
A week later, Aboriginal mourners had gathered in a public park for a wake after a negotiated agreement that they would be allowed to occupy that space. At one point a white patron appeared on the balcony of a local hotel armed with a shotgun. Sometime after bottles were thrown at the hotel, police armed with batons and protective gear stormed the park. A disturbance labelled a 'riot' lasted for about half an hour.
Australian television crews, which under normal circumstances would rarely visit Brewarrina, were present in the town to cover Boney's funeral. 'The riot' became a media television event that obscured the long history of tensions between police and the local Aboriginal community.
Historian Dr Heather Goodall later carried out a detailed analysis of how the dramatic television footage of these events in Brewarrina was used to convey the impression that Aboriginal people rather than police or armed whites played the most active role in generating the violence. She concluded that the cutting and repeated re-use of the material linked Aboriginal people with crime, criminal irrationality and disorder in a way which had a powerful meaning beyond any aim to report "what happened" and created "a profoundly false impression of what happened"(Goodall, 1992, p.7).
Some of the stories about Boney's death drew on interviews with the local Brewarrina Court Clerk Mark Olson who acted as the Coroner in the aftermath of Boney's death. (After public criticism, he later stepped aside from conducting the Inquest.)
The RCIADIC later found that Olson did not meet the required standard of being a "person who was fair and impartial and not prejudiced towards Aboriginals." He had been a National Party candidate and was closely associated with the local paper Brewarrina Bulletin. He had used his access to the media to publicly oppose the political campaigns of the Aboriginal community and was even interviewed by Sydney media on his thoughts on the cause of the 'riot'.
The Commission found:
It was outrageous that a person who had so many functions to perform in aid of the judicial system, including functions that were themselves judicial or quasi-judicial, should have engaged in this pillorying of those who passed through the system. It certainly could not have created confidence in his impartiality. He was active in 'law and order' campaigns which have swept western New South Wales at various times.
This is the man who took charge of Boney's body after his arrest and who was initially responsible for the investigation.
Olson was not the only National Party figure to play a role in the media coverage. Farmer and Federal MP for Parkes Michael Cobb was angry enough with the ABC to make a speech in Federal Parliament blaming its Four Corners reporters for causing the riot by supplying alcohol to the Aboriginal community. After an internal investigation cleared the journalists, the then ABC Chair Bob Somerville strenuously rejected the attack. He acknowledged that Four Corners journalists had shared several beers with Aboriginal contacts during their stay in Brewarrina, which they left before the 'riot'. He said that rather than producing evidence, Cobb had relied on 'a scurrilous concoction of speculation, allegation and rumour." ( SMH 7/10/87 p.1).
Despite distorted and dramatised reports, there were also examples of quality reporting. The SMH's Graham Williams, who had a long record of reporting on social justice issues, went to Brewarrina for several days. His front page reports quoted members of the Boney family and other locals alleging that Lloyd Boney was unconscious or almost unconscious when he was dragged to a van. He was so intoxicated that they did not believe that he was physically capable of hanging himself. Williams visited the homes of locals and described the extremely difficult housing conditions. Williams interviewed Boney's uncle Barker Hooper who said "our housing coop has been trying in vain to get money so that we can build decent houses instead of having to live in huts and tin shanties" but it was easier for police to pick up people who are drunk and to blame them rather than the deep-rooted causes of their problems.
In sharp contrast to the commercial television reports, the SMH report featured a photo including some of 100 peaceful protesters marching down the street and staging a 'sit-in' calling for a Royal Commission.
Royal Commission announced
Just days after Boney's death, Labor Prime Minister Bob Hawke announced that there would be a Royal Commission into 44 deaths in custody. Eventually, 99 deaths were investigated.
Some Aboriginal activists were justifiably wary. The chairwoman of the National Committee to Defend Black Rights (CDBR), Helen Corbett said international pressures had played a key role in the decision to set up the inquiry. Before that, Aborigines "came up against a brick wall', she said. As she told 2CR's 'Doin' Time' program recently, she personally distributed thousands of pamphlets at United Nations Committee for Human Rights meetings in Geneva.
The National Aboriginal and Islander Legal Services Secretariat (NAILSS) and the CDBR pushed for the original narrow terms of reference for the Royal Commission to be broadened to include an investigation into underlying causes of deaths in custody.
There is no space here to cover the coverage of the hearing and early reports of the Royal Commission.
1991 - The Royal Commission issues its final Report
The Royal Commission's 339 recommendations covered a huge range of issues, from changes that needed to be made in specific police and prison practices to ways of addressing underlying systemic disadvantage experienced by First Nations people. The key ones were that
deaths in custody were related to over-representation of Aboriginal people in custody
imprisonment should only be used as a last resort
there was little understanding of the duty of care by those exercising control over those in custody
the most significant contributing factor to bringing First Nations people in contact with the criminal justice system was their disadvantage compared to non-Indigenous people
Disappointingly for many families and others who had campaigned for the commission, the Commissioners found that no person had deliberately caused a death. (A closer examination of the reports revealed that Justice Hal Wootten had recommended that the NSW Director of Public Prosecutions should consider charging some individuals with offences other than homicide but no subsequent action was ever taken.)
At the time of its release the report made a huge public impact. Indeed, few Australian Royal Commissions have attracted stronger, more passionate media attention than the 1991 Final Report of the Royal Commission. "Oppression laid bare" was the headline on Murdoch's Daily Mirror Telegraph on May 10th, 1991.
The article stated:
"History will record that the Royal Commission has played a crucial role in laying open the harshness and oppression experienced by many Aboriginal Australians. The report stands as an indictment of the legal and corrective services system in respect of the most disadvantaged group in Australian society and of society itself in allowing that situation to develop and continue."
'It's a disgrace to the nation', 'Our state of shame', and 'Cell conditions inhuman' headlined stories inside the paper. (The Daily Mirror Telegraph was renamed The Daily Telegraph in 1996) The coverage was similar across the Australian media.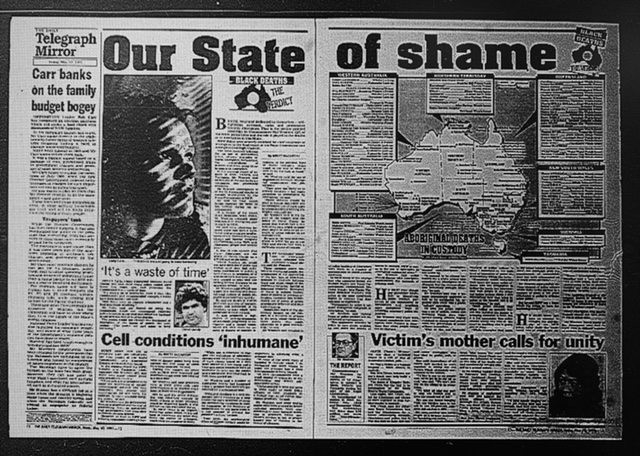 Screenshots of Telegraph Mirror May, 1991.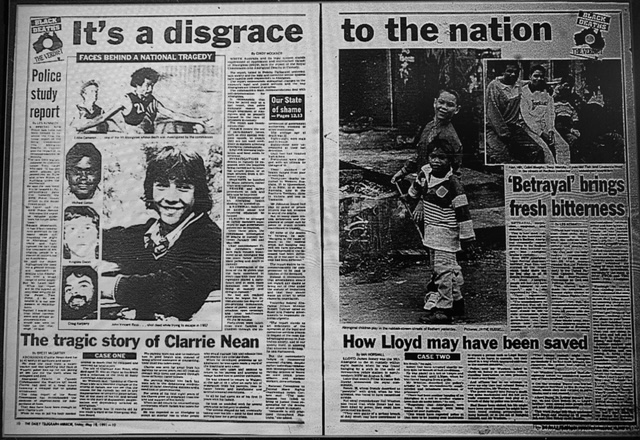 The Royal Commission report highlighted the key role that journalism played in developing public narratives around Aboriginal and Torres Strait Islander communities. While it noted that reporting had improved during the period of the Royal Commission, it set out issues that needed to be addressed.
Indigenous communities had given evidence that they felt that journalists privileged the views of the police and ignored them.
The Commission called for resources to be put into Indigenous media and for Indigenous journalists to be employed by the rest of the media. The report envisaged a role for journalism that could contribute to justice for Aboriginal people if it placed deaths in custody in their social and moral contexts. Investigative journalism had played an important role in achieving the Royal Commission in contrast to the media's usual role which "historically relegated Aboriginal people to the fringes of society".
After the report was published, there were conferences to develop Indigenous media and build an awareness of how journalism can amplify racism through reporting practices.
But despite the big splash and work to build indigenous media behind the scenes, deaths in custody vanished from the mainstream news agenda remarkably quickly.
In 1993, just two years after the Royal Commission, the National CDBR spokesperson Maurice Walker complained to an Australian Centre for Independent Journalism (ACIJ) reporter that the number of Indigenous people in prison was rising and that relatives of those who died in custody were bitter about the lack of action. Wiradjuri leader and Coordinator of the Deaths in Custody Watch Committee Ray Jackson said, "$430 million has been spent and yet deaths in custody are still continuing. In fact there have been 52 deaths since 1989 and nothing's changed." These voices barely surfaced in the mainstream media.
In November 1993, a young Aboriginal dancer Daniel Yock was arrested by police and lost consciousness in the police van on his way to the police station and died less than an hour after his arrest. (For more on this case, read Chris Graham's article for New Matilda in 2017 and this feature by Daniel Browning, Allan Clarke and Rudi Bremer was published the ABC 28 years after Yock's death.)
The Murri community in Brisbane were shocked and angered by his death and organised protests. Initially there was a violent clash between police and protesters followed by a silent march a week later. Coverage of the protests put deaths in custody in the headlines again. Just as the Royal Commission had warned, some of the reports ignored police violence and portrayed protesters as disruptive. But the real question was: without the protests would there have been any coverage at all?
The community was outraged when a Criminal Justice Commission (CJC) Inquiry later found that police had done nothing wrong and that the fact that Daniel was an Indigenous man played no role in his arrest.
1995 - four years on from Royal Commission
In 1995, Bonita Mason, Peter Cronau and myself reviewed media reporting of the implementation of the Royal Commission's recommendations. We published an article is the Australian Centre for Independent Journalism magazine Reportage.
We concluded:
"there has been passing media interest in the issue but the coverage has been based on isolated news events such as the publication of official reports. The full impact of what is happening remains hidden. There has been little in-depth analysis or reporting of what is happening on the ground and the media has lapsed into a passive rather than an active role."
You can read the article here: https://wendybacon.com/uploads/appendix-c_reportage-article.pdf
(The photos in the Reportage article were published with permission at the time of initial publication.)
Case study: Australian Institute of Criminology 1993/4 report
We provided a small case study of the coverage of the Australian Institute of Criminology 1993/4 Snapshot of Deaths in Custody. This was an annual report that was published as a result of a RCIADIC recommendation. The devastating news was that 14 aboriginal people had died in custody during 1993, which was the highest number since figures were first collected in 1980. In a media release, AIC Director Dr Graycar pointed out: "while the Aboriginal population is less than 2% of the total population, it comprises 16% of the prison population …. This unacceptably high incarceration rate of Aboriginal people combined with the poor health status, presents a truly regrettable and preventable situation."
The Federal Minister Rob Tickner also issued a media statement in which he described the "gross over-representation of Aboriginal people in custody as disturbing." He called on State and Territory governments to ensure reforms were enacted in their areas of direct responsibility for the criminal justice police and prison systems."
Despite these findings, the AIC report got little coverage in the Australian media. There were ten small reports in major mainstream newspapers and the ABC. Most of these failed to mention the key point which was that the rise in deaths in custody was linked to the increasing rates of incarceration. Only four media outlets mentioned the Minister's call for action.
Only The Age and the The Canberra Times mentioned both Tickner's release and the link with increasing rates of incarceration.
The key issue was completely missed by The Australian newspaper when a reporter wrote that "despite the implementation of the recommendations', deaths in custody continued". (my emphasis)
Our research found no coverage of the AIC report by any commercial television or radio station.
Four years after the media splashed with the Royal Commission report, millions of Australians had not received even minimal information about Federal and State governments' slow progress in implementing the Royal Commission's recommendations and the continuing tragedy of deaths in custody.
There were Indigenous spokespeople available but journalists chose to ignore them.
Social Justice Commissioner Mick Dodson's urgent call is ignored.
The media also ignored the urgent calls of Mick Dodson who was then the Aboriginal and Torres Strait Islander Social Justice Commissioner at the Human Rights and Equal Opportunity Commission. A widely respected Indigenous leader and lawyer Mick Dodson had been appointed in 1992 as a direct result of the Royal Commission report. He was concerned that there was a costly disconnect between the Federal and state governments reporting on the progress in putting the recommendations into practice and what was actually happening on the ground in communities.
In a speech to the Evatt Foundation he said,
"It (Commonwealth) progress report is virtually unreadable, full of bureaucratic humbug, … self justification and empire defending. It is simply an account of bureaucratic activity which tells us almost nothing about what impact, if any, bureaucratic activity is having on the ground. In this account the main point of many of the recommendations is entirely missed."
Dodson issued an annual report in 1994 which included a chapter on deaths in custody. Incarceration rates were increasing, particularly in NSW and Victoria.
At the same time, Dodson issued a media release which stated that he still regarded the bipartisan support for the Royal commission report as a watershed moment, but that there was a real danger of that moment being squandered.
For those interested in how the implementation process was buried in bureaucratic reporting tasks, it is worth reading Dodson's devastating critique in the Federal government's 1994 report.
Journalists could easily have promoted this report. Dodson's words were clear and highly quotable. As a significant public figure holding an official position, he was just the sort of source favoured by mainstream media. But editors, producers and reporters chose not to interview him.
No media outlet investigated the reasons for the rise in deaths in custody.
Dodson was not deterred and continued to make reports, which provide a valuable record of the failure (and some progress on specific recommendations) in the years after the Royal Commission.
1996 - a watershed moment
Despite the failure to make progress on reducing deaths in custody, the Federal Labor government had always officially supported implementation of the recommendations. When asked to explain the failure, the Federal Minister for Aboriginal Affairs Rob Tickner blamed state governments for dragging their heels. In the lead up to the 1996 Federal election, the LNP promised a Ministerial Summit to discuss the lack of progress if it won the election.
The Howard Coalition government was elected In March 1996 and thus began a drift to the right in Australian politics. Right wing politician Pauline Hanson was elected to Federal parliament in Queensland and not long afterwards launched the One Nation party. Instead of embracing policies to reduce incarceration rates, Coalition governments in the Northern Territory and Western Australia moved to introduced mandatory sentencing laws that could send children to prison. While Human Rights advocates spoke up, Labor politicians were muted in their criticism of mandatory sentencing policies. Some even supported them.
Aa conservative forces with 'tough on crime' policies gained strength, more indigenous people were being locked up and more were dying in custody.
In June 1996, the Australian Institute of Criminology reported that since 1991, black deaths in jails each year "have more than doubled from eight to 17." "In my mind it's a national disgrace,"one of the report's three authors, David McDonald, told Reuters. "This is a massive increase." Aboriginal and Torres Strait Islander prisoners make up two percent of Australia's population which was then 18 million but accounted for 25 percent of all deaths in police custody and jail in 1995."
McDonald, a senior criminologist with the AIC, blamed the increase on a failure of courts to avoid jail terms when sentencing convicted First Nations people. He called for legislation that "enforces the principle of imprisonment only as a last resort." These were strong words from a government bureaucrat.
In November 1996, the Social Justice Commissioner Dodson issued another report on Deaths in Custody. He found that since May 1989 an average of 8.5 Royal Commission recommendations had been breached in each Indigenous death in custody.
During this period, the Sydney Morning Herald stood out from the rest of the mainstream media for the depth of its coverage. Reporter Debra Jopson had completed an Indigenous Studies degree and was the SMH Indigenous Affairs reporter until 2003. She devoted a full page to Dodson's report.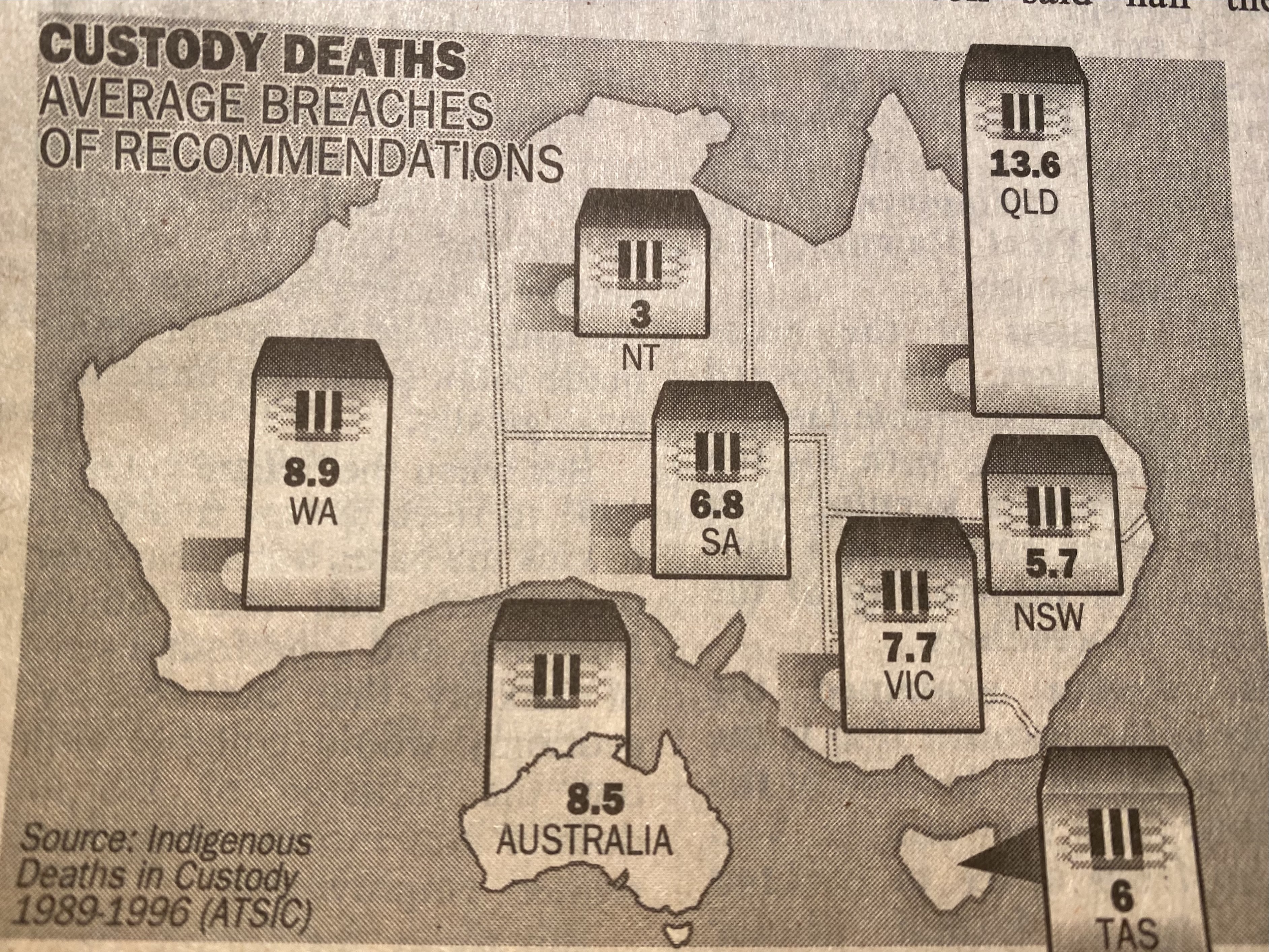 Sceenshot of graphic in SMH showing Dodson's analysis of breaches of RCIADIC recommendations.
Dodson demanded "to know what has happened to the $400 million the Federal government had promised towards the implementation of the recommendations. He accused governments of wasting the money and putting out "glossy reports" covering up their failure. "Ultimately the blame lies at the foot of political leaders. You can't sheet it home to the departments, the agencies, and the offices involved." He made a number of practical recommendations included an end to public drunkenness offences, imprisonment to be legislated as a penalty of last resort and for a National Corrections Agency to enforce national standards for the treatment of those in custody.
Lois O'Donohue, the Chairperson of ATSIC, was quoted: "Speaking personally - five years after the Royal Commission published its final report - we are facing possible worse statistics than before the Inquiry began. Five years on, governments continue to regard indigenous lives as having less value - or less relevance - than others."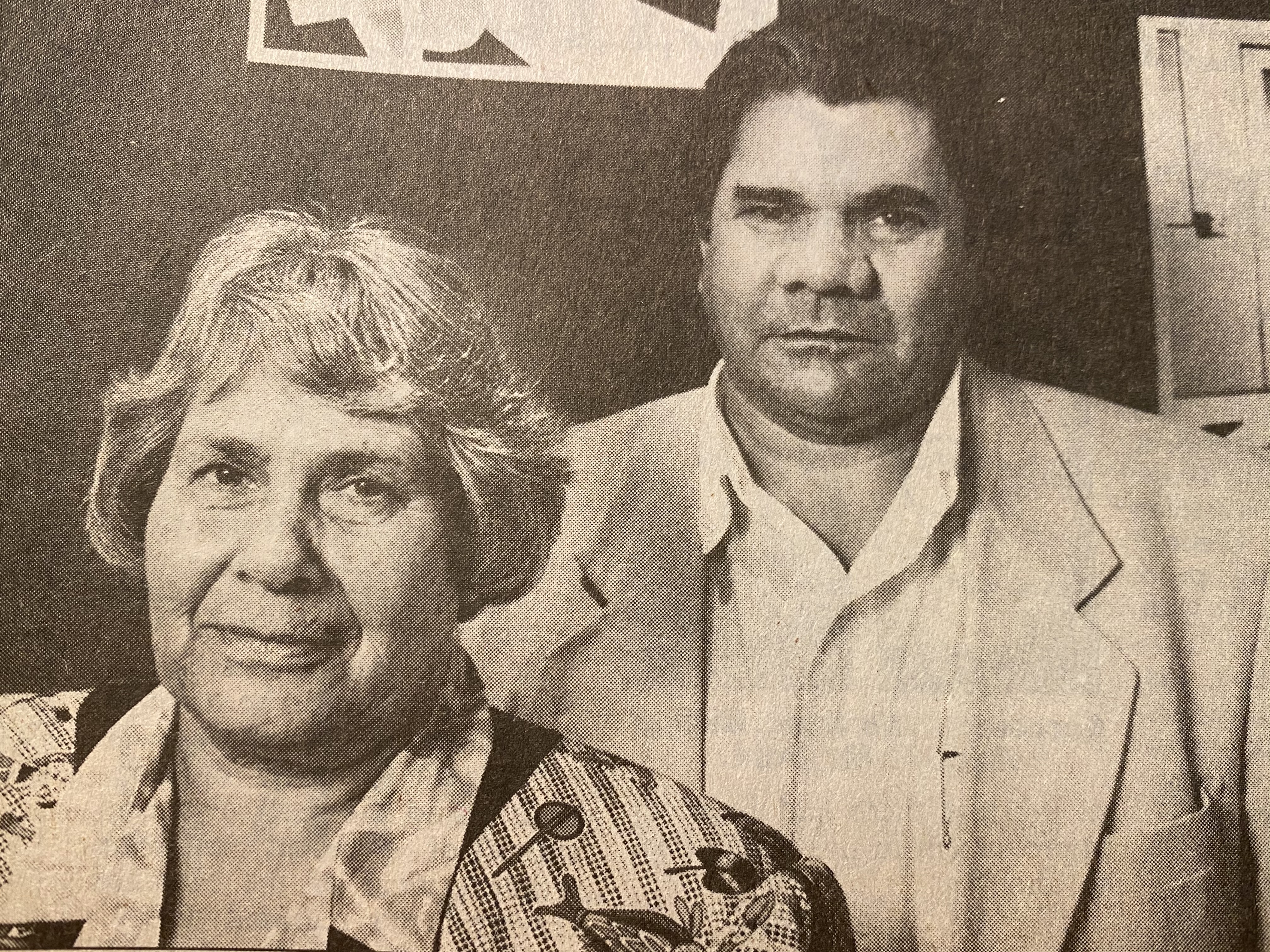 Screenshot of Lois O'Donohue and Mick Dodson from SMH 1996.
The promised Summit was held in 1997 and was attended by Ministers, senior public servants and representatives of First Nations communities. The new Federal Minister John Herron told ABC newes that he was determined to reduce deaths in custody but at the same time, he supported the Northern Territory mandatory sentencing laws.
In a Summit communique attendees agreed that 'the primary issue of concern is the significant over-representation of Indigenous people at all stages of the criminal justice process' and that in the six years since the Royal Commission, the rate of incarceration had not decreased. They committed to 'genuine reform'.
In his speech to the Summit, Dodson said that the original draft communique had been diluted:
In my view this document represents a 'lowest common denominator' position, it seems to me it has been prepared to ensure that all States and Territories are in favour of signing it. The outcomes restate the obvious and ask for commitment, without any indication of what that commitment means in real practical terms. I think it is fair to say that there are no real outcomes in this Communique … I'm particularly concerned about time lines and designated targets, I think the document in that regard is a bit vague and lacks in specifics." (Page 125 of Dodson's speech in Ministerial Summit report.)
Dodson did not sign the communique as it said that as the social justice commissioner was supposed to be a 'watchdog', it would be inappropriate. He was reported in The Australian as saying that the summit was "a good foundation for the future "but it failed to address mandatory jail terms and stringent sentencing policies". The Chairperson of the Aboriginal and Torres Strait Islander Commission refused to sign because of its lack of timelines.
There were news reports of the Summit and the release of official reports during this period in the mainstream print media and the ABC. But these were focussed around the time of publication. There was little or no exploration of the crucial link between deaths in custody and sentencing policy to which Dodson was pointing.
During this period there was also little investigation of individual cases but there were exceptions. For example, my colleague at the ACIJ, Bonita Mason won a Walkley award in 1997 for an investigation 'The girl in Cell 4' into the 1994 death of Janet Beetson who had been imprisoned in Sydney's Mulawa prison.
2001 - A sad ten year anniversary of Royal Commission
The Australian Human Rights Commission issued a Social Justice report on the 10 year anniversary of the Royal Commission report. The report expressed profound disappointment at the continued deaths in custody and noted, "Yet in 2001 this hardly raises a murmur of discontent yet alone outrage among the broader community. These facts either go unnoticed, or perhaps even worse in the age of reconciliation are simply accepted and not challenged. As a consequence, Indigenous affairs seem to have become a series of anniversaries –operating as an annual reminder of the unfulfilled promises and commitments of governments." This report did not attract media attention.
Breaking through the silence
In 2004, I again reviewed coverage of deaths in custody. It was now 14 years since the Royal Commission report was had been released.
I found that most Australians were continuing to receive almost no information about deaths in custody. There was little or no coverage on TV news, the source through which most Australians accessed news at that time. There was more coverage in the SMH, The Age and The Australian than in the Murdoch tabloids and The West Australian. (For more detailed analysis see page 31 to 38 of my article.)
There had been plenty of news to cover and there were exceptions. Some of Australia's best journalists continued to focus on investigating individual cases.
In 2002, Four Corners journalist Andrew Fowler investigated the neglect and discrimination that led to the 1999 death of Eddie Russell, the cousin of Kamilaroi man Eddie Murray who had died in custody in 1981. Suffering intellectual and physical disabilities, Russell had been bashed by police, kept away from his parents and locked in a cell on his own. The Coroner found there was simply no system to accommodate him.
In 2005, the ABC Message Stick series produced a program in memory of Leila Murray, the mother of Eddie Murray who never accepted that her son died by hanging and spent twenty years campaigning for the truth to be investigated. (Her granddaughter Keah Patten continues to campaign for the case to be reopened.
In 2004, Mulrunji (Cameron Doomadgee) was arrested for swearing at a white police officer. Forty minutes later, he had been killed in the watch-house on Palm Island. His brutal treatment catapulted the deaths in custody issue back into the media headlines.
His death was followed by protests and the burning down of the local police station. The community did not accept that Doomadgee's death was 'an accident'.
There was a lot of coverage of this case including long reports by Tony Koch for The Australian, a book The Tall Man by Chloe Hooper, a film based on the book by Indigenous director Rachel Perkins and a major artwork by Indigenous artist Vernon Ah-Kee and hundreds of other reports. ( Some of this publications can be found here.)
Palm Island elder and local Councillor Lex Wotton played a major role in leading his community's fight for justice. He was stun- gunned in his home and later sentenced to six years for his role in the riot but but eventually only spent two years in prison. His long fight highlighted underlying discrimination against First Nations people and the denial of the right to free speech of Queensland prisoners and parolees generally. ( You can read more about Wotton's role here.)
Later, in 2018, the Queensland government reached a $30 million settlement with Palm Island residents as a result of a class action in the Federal Court over the riots that followed the death of Doomadgee. But Doomadgee's family told Green Left "no amount of money will alleviate the pain of losing him."
The Queensland state also apologised to the community after a landmark racial discrimination case in which the Federal Court found police were racist in their response to the riots that followed Doomadgee's death.
ABC's 7.30 report noted that Doomadgee's death had focussed attention back on the issue of deaths in custody and reminded people how little progress had been made. A spokesperson for the Foundation for Aboriginal and Islander Research Action told a 7.30 journalist that "Australia is actually going backwards or is forgetting the commitments that it has made." Dr David Biles, who had been head of research for the Royal Commission, was interviewed and said, "the bad news is that over the past 13 years, more indigenous people are dying in jails, and that is basically because there has been a dramatic increase in the rate of indigenous imprisonment. When we did the Royal Commission, 15% of all Australian prisoners were Aboriginal and Torres Strait Islanders. Now it is nearly 22%. And that should be seen against the background of 1.68% of Australians are indigenous. So that level of over-representation in quite a disgrace."
But most of the media showed little interest in investigating the cause of these systemic patterns.
On Invasion Day in 2008, Ngaanyatjarra lore man and artist Mr Ward was arrested for driving under the influence. The following day despite extremely high 42C temperature, he was put in a private security van to be transported 400 kilometres to Kalgoorlie. On the way, he was literally cooked to death. In June, 2009. his death was investigated by Four Corners reporter Liz Jackson. The Department of Corrective Services had been warned about the dangers of the van transfers.
As part of her Masters of Journalism at UTS, young reporter Inga Ting was struck by the silence around deaths in custody. Her extensive analysis of national statistics and NSW Coroners' Reports was later published by Crikey.
Deaths in Custody reports delayed
In May 2013, the Australian Institute of Criminology released its Deaths in Custody Report. There were then 8,430 Indigenous citizens in prison - this represented 26% of all prisoners. The highest rates of incarceration in the OECD were of First Nations people living in Western Australia.
Nationally, in 20 years rates had gone from one Indigenous person in seven incarcerated to one in four.
A Factiva database search reveals that six items were published in Australian print/online media on this report.
These included a news item on the ABC, five pieces in Fairfax's SMH, The Age and the Canberra Times, all authored by Mark Baker and another SMH opinion piece by Inga Ting and an opinion piece in The Australian. .
Only Inga Ting (now ABC) reported that the Federal Labor government was very late with the reports. Her report is worth quoting:
"That this report is not months but years late is a snub to the importance of that goal. A decade ago, the program was delivering its reports within days of the close of the reporting period - the 2003, 2004 and 2005 reports were delivered within one month. Then, without explanation, each of the next three reports took between 16 months and two years to appear. The 2009-11 report has been almost 3½ years in the making.

Finally, the edition covering 2009, 2010 and half of 2011 is here. You might expect that this report - which marks 20 years since the Royal Commission and paints a horrific portrait of the state of indigenous criminal justice - might have grabbed some headlines. Yet newspapers of the day carried a single article - an opinion piece co-written by the Institute's research analyst Mathew Lyneham, buried on page 10 of The Australian.

The government's press release - with the Orwellian title "20 Years on - Improvements in death-in-custody rates but more to be done" - labelled the report as "encouraging" and "welcomed … findings that death-in-custody rates have decreased significantly in the past decade" and are "some of the lowest recorded".

But that was spin. The truth is that rates of death are only low because rates of incarceration are at a record high. In fact, the actual number of indigenous deaths in prison is on the rise, with the number in 2009-10 (14 deaths) equal to the highest on record.

Given the central aim of the royal commission's 339 recommendations - to urgently reduce indigenous incarceration rates - and the report's finding that the proportion of indigenous prisoners had almost doubled in the 20 years since the commission delivered those recommendations, the findings look more like an abject failure."
Mark Baker also cut through the spin and quoted First Nations sources including Mick Dodson and Professor Larissa Behrendt who called for an independent body to investigate deaths in custody. She said, ''We could have improved things a lot more than we have, given all the work that has been done and all the recommendations that have been made,'' said Behrendt. ''The Royal Commission provided a great blueprint. There is no mystery about what works. It has all been laid out. That's the most frustrating thing: this can be fixed.''
The Australian piece on the report focussed on explaining why Indigenous deaths were rising although the rate of deaths per the total number of Indigenous prisoners was declining. The answer lay "in changes in rates of imprisonment. In 1991, when the RCIADIC handed down its findings, indigenous people represented about 14 per cent of the prison population and 14 per cent (five) of deaths in prison. Twenty years later, indigenous people represent just more than 26 per cent of the prison population, but about 21 per cent (14) of deaths in prison."
This analysis is specious. If you lock up more people, more people will die.
So exactly the opposite was happening to what the Royal Commission had recommended as the key reform. But as far as I could discover, Murdoch's News Corporation tabloids including the Daily Telegraph that had so strongly reported on the Royal Commission findings, chose not to promote this fact.
2013 - Black Lives Matter movements.
Since 2013, the Black Lives Matter network in the United States has been fighting racism and anti-Black violence, especially in the form of police brutality. The movement has both been covered as a global event but also has inspired local activism, which in turn has sparked more Australian media attention on local deaths in custody.
In 2014, Yamatji woman Ms Dhu died in police custody in South Hedland, Western Australia. Less than 48 hours before, she was imprisoned for non-payment of fines. In an article which links Ms Dhu's death to "forms of gendered, institutional and structural racism endemic to the Australian settler state", Pauline Klippmark and Karen Crawley argue that the media's role in the circulating of CCTV footage showing torture of Dylan Voller in Don Dale Detention Centre sparked international condemnation which led to attention on Ms Dhu's death. The Guardian's Calla Wahlquist, the ABC, SBS and other media closely followed events and protests.
In 2018, Guardian Australia first published Deaths Inside, which told the individual stories of the people behind the statistics. Guardian Australia's Indigenous Affairs editor Gamilaraay and Yawalaraay woman Lorena Allam, data editor Nick Evershed and reporter Calla Wahlquist have been tracking deaths ever since. They've been through hundreds of coroners' reports and have recorded every known death since 2008 to today.
In April this year, The Guardian announced that Jumbunna Institute for Indigenous Education and Research, at the University of Technology Sydney, will continue to manage, update and enhance the database, and make it available as a public resource. Allam wrote, "In its horrifying totality Deaths Inside is a story of systemic failure and the determination of the families left behind, as they fight for answers and accountability."
There are reasons for hope. A key element in invigorating the media coverage of deaths in custody has been the Aboriginal families and communities who never gave up campaigning. The numbers of people, especially young people, attending protests has also grown. In 2020, First Nations families with one or more members who had died in custody gathered in a circle at Sydney's Domain. Representatives of families spoke, surrounded by a much wider circle of non-Indigenous supporters. The whole event was live-streamed. (I did two reports for City Hub on 2020 protests - here and here.)
Back in 1991, there were few Indigenous reporters. Today in Australia, Indigenous journalists lead the coverage including Lorena Allam, Darumbal and South Sea Islander woman Amy McQuire, Wiradjuri elder Stan Grant and others. Journalism about First Nations people by First Nations reporters has become more prominent as the Royal Commission hoped it would.
New forms of data journalism allow for more systematic analysis of Coroners' reports.
There is also more independent publishing, not just by media organisations like The Guardian, Crikey and NITV but also by Indigenous research organisations such as Jumbunna . In 2019, Deathscapes, a project that researches deaths in custody in the context of racialised groups in settler states was published. One of its case studies explores the terrible and inexcusable death of senior Ngaanyatjarra lore man Mr Ward. These avenues for story telling did not exist in the early 1990s.
Indigenous community-controlled news paper Koori Mail has been covering deaths in custody since it was established in 1991. Progressive media outlets New Matilda and the weekly newspaper Green Left consistently followed the issue. (Those links will take you to hundreds of reports.)
In 2015, Croakey Health Media crowdfunded the campaign #JustJustice, an initiative that "focussed on wide-ranging health impacts of over-incarceration upon Aboriginal and Torres Strait Islander Peoples, families and communities." The overall purpose was to identify solutions to reducing incarceration rates. Dozens of articles were produced that were published later in a report #JustJustice. You can download it here. Croakey is associated with the Indigenous media organisation [_IndigenousX __](https://indigenousx.com.au/)_that has a popular twitter account that circulates between First Nations individuals on a weekly basis. It also partners with The Guardian.
A year later, at the time of the 25th anniversary of the Royal Commission into Deaths in Custody, The Conversation published a package of stories that argued that the situation had worsened since 1991.
There is now no longer a threat that First Nations spokespeople in Australia can be silenced. This is due to a rich and diverse Indigenous media field. But at the same time, the opposition to justice and self-determination for Aboriginal and Torres Strait Islander peoples has become more strident in white racist media.
Despite initiatives by independent outlets, the broader picture of media coverage over thirty years is not one of which journalists collectively should be proud. The coverage in News Corporation tabloid outlets certainly has not reflected the strength of their editors' reaction to the 1991 Royal Commission report. Their silence around the issue needs to be seen in the lens of 'law and order' politics in which the media has framed election after election. The conservative political environment under both LNP and Labor governments helped build a context in which increasing incarceration rates were portrayed as a positive development. In a piece for The Conversation titled 'How 'tough on crime' flouts deaths in custody recommendations', Professor of Criminology at UNSW Chris Cunneen discussed how a political trend towards Australian governments adopting policies that are "less compassionate, more punitive and more ready to blame individuals for their alleged failings'. So at the same time as First Nations and grassroots organisations have been battling to develop programs that will keep people out of custody, governments have tended towards 'more prisons and people behind bars'. Some Australian media have very actively contributed to that process.
Incarceration rates rising
By 2019, First Nations Australians made up 3% of the total Australian population, but 28% of the adult prison population. First Nations men were 15 times more likely to be in custody than non-Indigenous men. First Nations women are 21 times more likely to be in custody than non-indigenous women.
While the issue of #BlackLivesMatter featured prominently in the news, the sad truth is that the average number of First Nations people locked up in Australian prisons increased by a further 500 until March 2020. The Covid-19 pandemic that year resulted in a small dip. In 2021, numbers are on the rise again.
The key questions remain:
Why and how has it happened that rather than governments implementing the key recommendation of the Royal Commission into Deaths in Custody, the opposite has occurred?
What steps (both policies and practical programs) must be taken to reverse this trend to avoid more destruction, trauma and death?
Most importantly, who is resisting change and why?
Journalists should play a key role in answering these questions. In doing so, they can work in partnership with Indigenous organisations but also need to ask questions of those in power. They need to go further than reporting individual cases and protests to explore underlying policies that drive incarceration.
As I wrote at the beginning of this piece, there would have been no Royal Commission if it had not been for the campaigning by the CDBR and other groups. Today, First Nations communities are the key media voices. But as further research will show, partisan racist media has grown, not faded away.
In further pieces, I will return to this broader picture to look more closely at how the 30th anniversary was covered, particularly by the Murdoch media.
Note
Last year, Bonita Mason who is now the Program Director of Journalism at the University of South Australia updated my 2005 review for Pacific Journalism Review.
Thinking about the words to describe Australia's first peoples has changed over the years. I have tried to use the appropriate terms in context for how they were used in the 1990s and otherwise used First Nations or the name of the specific peoples. eg Yorta Yorta. Wiradjuri etc.
Acknowledgement: Ray Jackson
I'd like to acknowledge the influence that Wiradjuri warrior for justice Ray Jackson had on the Australian Centre for Independent Journalism and our teaching and research on deaths in custody. Even when ill, he was a persistent voice for justice and accountability for victims and their families. In 2004, he refused stay silent about the death of TJ Hickey in the suburb of Waterloo where Jackson also lived. Ray Jackson died in 2015. You can hear him talk at the Kensington and Flemington Community Legal Centre in Melbourne in 2013 https://vimeo.com/125978562. Inga Ting wrote an obituary for Ray Jackson in the Sydney Morning Herald.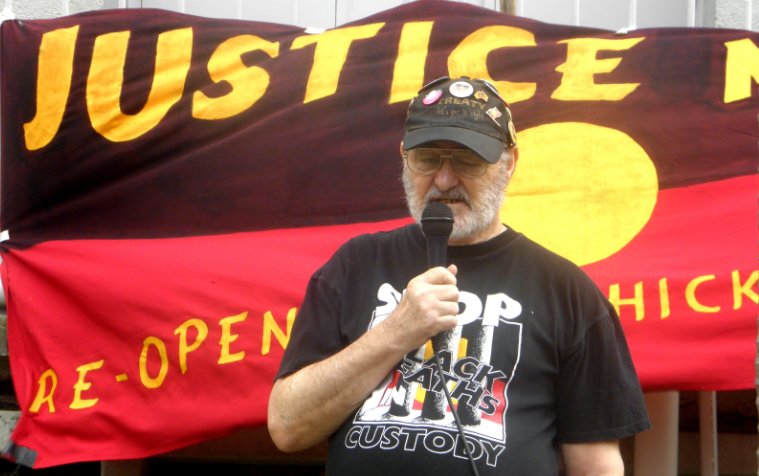 Bibliography
A selection of sources only. See also links.
Bacon, W. and Mason, B. (1995). Reporting deaths in custody. Reportage. Autumn, No.5
Finlay, S.M., Williams, M/,McInierney, M., Sweet,M.,Ward,M., (Eds).2016: #JustJustice: Tackling the Over-incarceration of Aboriginal and Torres Strait Islander Peoples.NSW
Four Corners (2002, November 11). Death by neglect. Australian Broadcasting Corporation
Goodall, H. (1992). Constructing a 'riot': Sydney: Television News and Aborigines, Racism Media Project, University of Technology, Sydney
Graham, Chris ( 2017). The Killing Fields: How We Failed Elijah Doughty, And Countless Others, New Matilda. https://newmatilda.com/2017/07/23/groundhog-day-elijah-doughty-joins-a-long-list-of-deaths-with-no-justice/
Kingston, M. (1996, January 1). Crisis summit urged as deaths in custody soar. Sydney Morning Herald
Macey, R. (1996, July 8). Day of shame: Watchdog condemns black deaths. Sydney Morning Herald.
Marr, D. (1985). Black Death, Four Corners, ABC Television.
Mason, B. (1997). The girl in Cell 4, HQ Magazine, Spring.
Mason, Bonita. 2020, July 21. Listen! Reporting Black Lives Matters. Journalism Educators and Researchers of Australasia. https://jeraa.org.au/listen-reporting-black-lives-matters/
Mason, B. (2020). Reporting Black Lives Matters: Deaths in custody journalism in Australia. Pacific Journalism Review : Te Koakoa, 26(2), 202-220. https://doi.org/10.24135/pjr.v26i2.1129
Mason, Bonita 2021, June 3, 'Australian news media play an important role in reminding the country that Black lives still matter', The Conversation, viewed 7 June 2021, https://theconversation.com/australias-news-media-play-an-important-role-reminding-the-country-that-black-lives-still-matter-161412
Mason, Bonita 2021, April 15, 'Sustained media coverage needed on deaths in custody', News, Journalism Education and Research Association of Australia, viewed 7 June 2021, https://jeraa.org.au/sustained-media-coverage-needed-on-aboriginal-deaths-in-custody/.
Mayman, J. (1984, June 25), Back to the dreaming, The Age.
Message Stick (2004) 'Leila Murray' Summer Series no. 9. (Retrieved September 2005). www.abc.net.au/message/tv/ms/s1276750.htm
Other articles and resources.
https://newmatilda.com/2010/06/21/long-shadows-palm-island/
https://www.deathscapes.org/about-project/
This article has been updated since it was first published. Please contact me at wendybacon1@gmail.com with any feedback or suggestions.