UPDATE
This story is now out of date. LNP Prime Minister lost the election on the day after the story was published and his chosen candidate for the seat of Warringah was also easily beaten by Independent Zali Steggall, who first won the seat in 2019.
The issue of transphobia has not gone away.
Craig Kelly also lost and has disappeared off the political scene.
News Corp's strong support for Morrison also did not bear fruit. But it's although worth saying that in Queensland, where News Corp owns the only metropolitan newspaper the Courier Mail in Brisbane and each of the main regional outlets ( including the Townsville Bulletin, The Cairns Post and the Gold Coast Bulletin), Labor won less than 30 % of the primary vote. In 2020, ex Labor PM Kevin Rudd spearheaded a campaign which succeeded in getting more than 500,000 people to sign a petition calling for a Royal Commission into Murdoch's News Corporation. This week, Minister for Communications Michelle Rowlands said that there would be no Royal Commission. This was not unexpected as Labor has never taken decisive action against media concentration.
Despite the election of the Labor government led by Anthony Albanese, Bernard Collaery and other whistleblowers remain on trial. Before the 2022 election, the then Shadow Attorney General Mark Dreyfus attacked the prosecution of Collaery as an "affront to the rule of law". Since the election the newly elected cross benchers have called for the prosecution to be dropped.
On May 22, the ACT court set a date for a trial against the wishes of Collaery. He and his lawyers are still locked in legal tussles trying the break through efforts to stop him getting information that the government wants to keep secret. Dreyfus has said he has sought a briefing on the case. Hopefully, he will withdraw approval for the prosecution of Collaery very soon.
A Get Up petition calling for prosecutions against whistleblowers Collaery, David McBridge and Richard Boyle to be dropped has be signed by nearly 23,000 people. (2/7/22). You can read more about their cases and sign the petition here.
End of UPDATE
Thinking about censorship
Compared to the days in my youth when I campaigned against censorship in Australia, freedom of expression has become a much more complicated idea. Back then, we saw the state as the major source of censorship.
Through our own reporting efforts, we did begin to understand how the mainstream media hid as well as published the truth. Prison and police abuses, deaths in custody and domestic violence were all rendered invisible by the media. We saw part of our role as publishing stories that no one else would publish.
But there was much that we didn't understand. For a start, back then we didn't really consider how concentrations of private power could marginalise and shut down voices.
I had little understanding of 'hate speech' and the humiliation and hurt it can cause.
Today, 'freedom of expression' is a contested idea.
As I write on the eve of the Federal Election, an extreme rightwing group that calls itself Advance Australia is spreading false text messages about what will happen if the Morrison government loses the Federal election.
Our mainstream media have run countless paid advertisements from the Palmer United Party whose candidate Craig Kelly has continually spread false information about COVID and vaccination.
The current Prime Minister Scott Morrison ( hopefully no longer in a day's time) accuses others of silencing and cancelling his candidate for Warringah Katherine Deves who has expressed harmful views about transgender people.
News Corporation has used its dominant media power to openly campaign for the reelection of the Morrison government. Much of what it publishes is more akin to propaganda than journalism. Yet News Corporation contends that it a key player in pushing for more freedom for journalists in Australia and has led campaigns to extend journalists' rights.
All of these examples challenge ideas of free speech and how it can be practised in a democracy
However, it remains in my view critically important that we extend our access to 'freedom of information'. We must stop punishing whistleblowers and challenge government and court secrecy of the kind that is happening in the unjustified trial of Bernard Collaery . He did nothing more than assist in the exposure of the Australian government's abuse of communication through spying on the East Timorese government.
Even though there is more independent outlets, our commercial media is still highly, concentrated especially in regional Australia. Local media has shrunk and there is almost no investigative local journalism. In Western Sydney, for example, where the majority of Sydney's people live, there is no publication that carries regular reporting of issues affecting the lives of its people. This is one of the reasons I have published my series on Bingo Industries.
So it was with all these thoughts in mind that I attended the PEN Sydney lecture of Senator Mehreen Faruqi at the Sydney Writers' Festival. As Australia's first Muslim woman Senator and one of very few politicians of colour, she gave me plenty to think about.
I particularly liked her arguments that 'cancel culture' is a fiction and that key questions underlying debates about freedom of expression is who will be heard and who will be silenced.
I reported on her speech for City Hub.
In the middle of the stage was an empty chair, a reminder that Australian journalist Julian Assange faces decades of imprisonment in a United States prison after a UK court approved his extradition to face charges under the Espionage Act for publishing information about US war crimes. PEN Sydney supports Assange.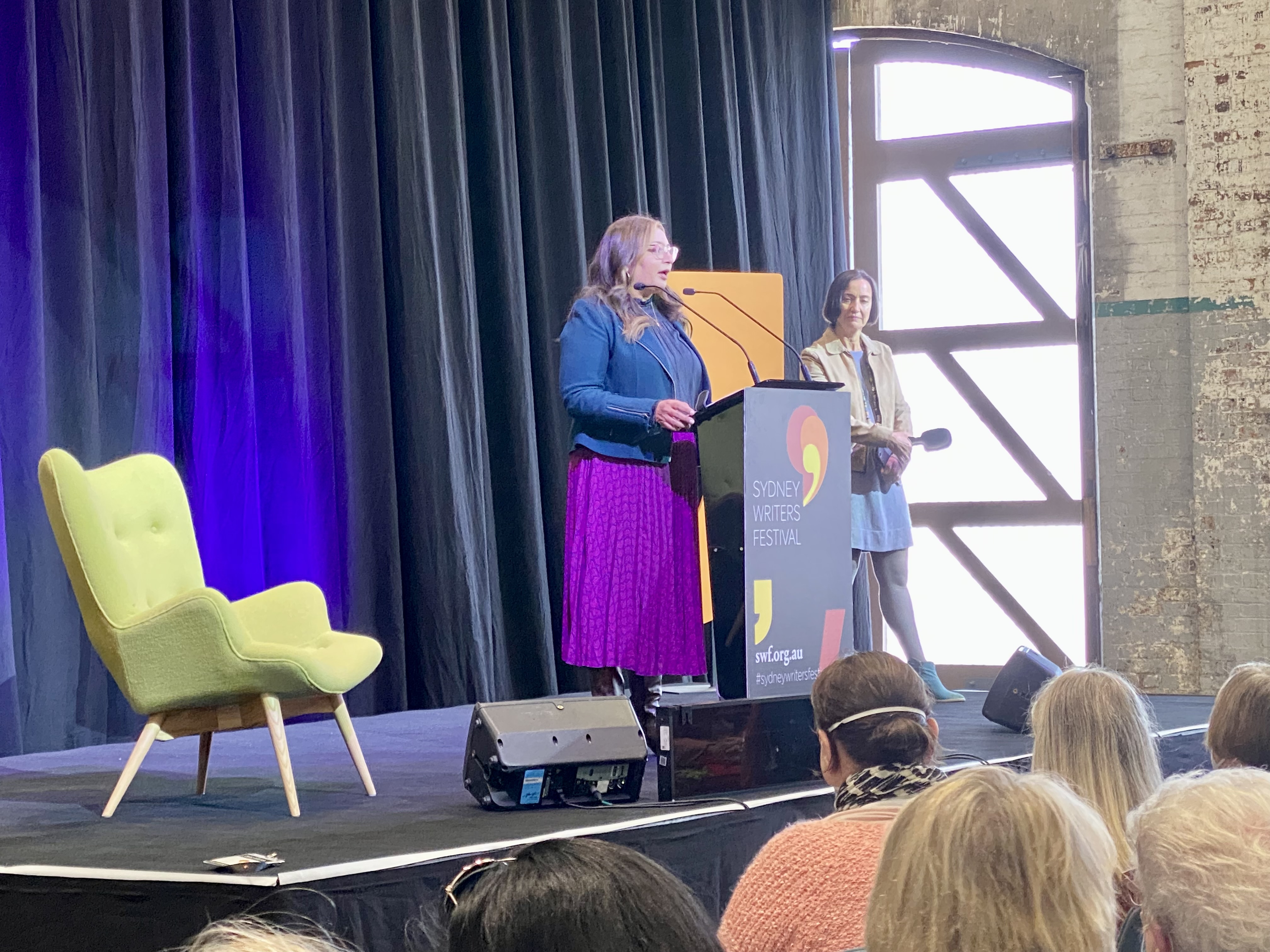 An empty chair, Senator Mehreen Faruqi and PEN Sydney coordinator Claudia Taranto on stage at Sydney Writers' Festival at Carriage works in May 2022.
As I declare at the end of the City Hub story, I supported Mehreen Faruqi in her campaign for election to the Senate in 2019.